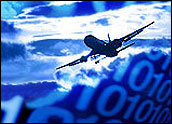 Online travel site Orbitz told the U.S. Department of Transportation (DOT) Thursday that its business has introduced new competition in the online travel sector, contrary to arguments made by its travel industry rivals that it is likely to compete unfairly.
"Our launch has had a pro-competitive impact on the marketplace as other sites move to enhance their customer service and offerings," Orbitz president and CEO Jeffrey Katz said.
Katz cited Orbitz' array of travel options — which he argued make buying travel cheaper and more accessible — as well as recent upgrades to the systems of its rivals.
In his letter to the DOT, Katz was highly critical of the pre-Internet market for the sale of air travel through computer reservation systems, as well as of business practices that limited airlines' ability to sell directly to travel agencies. He also criticized rival Internet firms for running technology from the 1960s.
Holding the Dice
Orbitz was founded by airline giants American, Continental, Delta, Northwest and United. According to Orbitz, its flight search engine searches the airfares and schedules of 450 airlines and has up to 2 billion flight and fare options in its system at a time.
Orbitz also claims to provide comprehensive lists of the airfares and schedules that consumers are searching for, instead of an artificially limited number of options.
However, according to other companies in the travel sector — including both Internet travel firms and traditional travel agents — Orbitz poses unfair competitive risks because it is operated by a consortium of the leading airlines and so has the potential to abuse its monopoly by setting prices and limiting availability of travel tickets.
"DOT will have to examine if Orbitz is getting preferential treatment or access to fares or other product that are not being made available to other travel agencies under similar business terms," Forrester research analyst for the travel sector Henry Harteveldt told the E-Commerce Times.
Government Review
The DOT asked for the six-month progress report from Orbitz in April, after an informal review by the department concluded with the determination that regulators would not prevent the launch of the site in June.
That review dismissed, on an initial basis, the claims of the other travel companies that Orbitz' technology and ownership structure is anticompetitive and poses risks to consumers.
"Traffic to the Web sites show that Travelocity and Expedia are still getting visitors and their quarterly reports are good, all things considered," Harteveldt said.
The market for online travel continues to grow, with Forrester saying that 17.8 million households in the United States are expected to buy travel online this year, up from 14.9 million households last year. According to Harteveldt, this growth of nearly 3 million households indicates that Orbitz is attracting newcomers to the online travel market and not just taking market share from its rivals.
"Orbitz is participating in the ongoing channel shift, rather than going out and moving part of a stagnant market from one site to another," the analyst said.
Looking Inward
Orbitz believes that research data it sponsored and then submitted to DOT confirms the site's pro-consumer benefits.
The study, which was released by Orbitz and conducted during October by BACK Aviation Associates and Professor Darryl Jenkins, director of the Aviation Institute at George Washington University, found that Orbitz meets or beats the lowest price quoted by Internet travel site rivals Expedia (Nasdaq: EXPE) and Travelocity (Nasdaq: TVLY) on the same itinerary more than 80 percent of the time.
According to the latest Orbitz-sponsored study, when Orbitz finds a lower fare, it beats the competition by $75 per ticket on average, across all itinerary types. Although that data is likely to be disputed by Travelocity and Expedia, the statement that those sites run on 1960s technology already has been disputed by industry observers.
Back to the Future
"While the availability of flight information does run on legacy systems — Sabre in the case of Travelocity and Worldspin in the case of Expedia — both companies have invested a substantial amount of money to enhance their flight search capability and schedule offerings," Harteveldt said.
Expedia lets customers build their travel plans leg by leg, and Travelocity allows searching through multiple airlines to find lower fare combinations, the analyst said.
"It's wrong for Orbitz to say that Expedia and Travelocity are relying on systems from the '60s when Orbitz itself uses the same technology, namely Worldspin, to access fare information," he noted.
For the Record
Orbitz also said Thursday that its site traffic and sales transactions set new records in October, jumping 56 percent compared with September.
Chicago-based Orbitz said it reached a new peak in site traffic during October, when 6.3 million unique users visited the site, up from 4 million in September and 5.9 million in August, according to data just released by Nielsen//NetRatings.
Profits Soon
In addition, Orbitz' gross travel bookings and sales transactions hit all-time highs for the week ended November 4th, Orbitz said.
"Despite the setbacks suffered by the entire travel industry after September 11th, our traffic and sales continue to grow," Katz said.
According to a report published by Reuters, Orbitz expects to reach profitability by mid-2002. Since Orbitz's launch in June, more than 2.8 million consumers have registered to use Orbitz and have made purchases totaling more than $500 million, the company said.