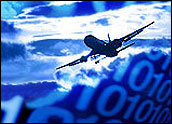 Consumers returned to online travel sites during the last week of September, with many sites regaining the audiences they had before the September 11th terrorist attacks, according to a report released Monday by Nielsen//NetRatings (Nasdaq: NTRT).
Overall traffic to travel sites for the week ending September 30th was actually higher than it was the week before the attacks on New York City and Washington, D.C., the New York-based research firm reported.
"Consumer interest in travel has begun to rebound from the turmoil surrounding recent national events," said Sean Kaldor, vice president of analytics at Nielsen//NetRatings. "Discounted fares and heightened promotions are enticing surfers to continue to use the Internet to plan and book travel arrangements."
Good Sign?
While it is still unknown what effect Sunday's U.S.-led military attack on Afghanistan — which many see as the start of a long campaign — will have on the travel industry in the coming months, the quick recovery from September 11th bodes well for the sector, according to Kaldor.
Travel sites had been among the strongest performers amid an overall Web downturn before the attacks.
"Online travel has been one of the best vertical markets on the Internet," Kaldor said.
Delta Rising
In measuring traffic, NetRatings compared traffic during the last week in September to that during the week ending September 9th.
For those two periods, the Delta Air Lines Web site saw a 32 percent increase in traffic. United Airlines grew 30 percent, while Hotwire gained 11 percent, Expedia (Nasdaq: EXPE) 7 percent and American Airlines 5 percent.
Expedia continued to have the most overall visitors, with 1.8 million for the week ending September 30th.
Turbulence Abounds
Still, the air has been anything but smooth in recent weeks for sites selling airline tickets to consumers, and the higher number of visitors do not necessarily reflect increased sales for travel sites.
On Friday, Travelocity (Nasdaq: TVLY) announced it planned to cut 10 percent of its workforce, or about 320 workers, put a hiring freeze in place and close a customer service call center in California.
Earlier in the week, UK air travel site eBookers.com (Nasdaq: EBKR) announced it would cut as much as 20 percent of its workforce in the face of the travel slowdown.
On the other hand, both Priceline (Nadaq: PCLN) and Site59.com said last week that the attacks had not hurt results as badly as they expected. Priceline said it would meet reduced expectations for the quarter.