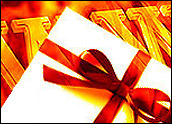 Americans expect to do most of their holiday shopping in stores rather than online this year, and those who do plan to turn to the Web say that convenience will be the keyreason, according to two new reports released this week.
In a survey released Tuesday, consulting firm Accenture reported that 83 percent of its respondents said brick-and-mortar stores will be their first choice for holiday shopping, while 11 percent said they will turn first to the Web.
Another report, issued Monday by investment banking and brokerage firm Goldman Sachs (NYSE: GS), said that online shopping will be up "only marginally" over last year.
Neither survey found that fear of terrorism is keeping very many consumers out of retail stores, as some had predicted soon after the September 11th attacks on the United States.
Goldman said that 4 percent of consumers it surveyed are so concerned about terrorism that they will shop online instead of in stores. Overall, the results "reinforce over view for continued slowdown in consumer e-commerce," wrote Goldman analyst Anthony Noto.
Tight Wallets
Accenture said that 43 percent of the consumers it surveyed did not plan to increase their Web spending this year.
However, 23 percent did say that they will shop more on the Internet this year. Within that group, 63 percent cited convenience as the biggest factor, 15 percent said they think they can find more bargains online than in stores, and 11 percent favored the Web because they can easily have gifts shipped directly to recipients.
Accenture said that 44 percent of the shoppers it polled plan to spend between US$200 and $499 on holiday gifts. Overall, consumers plan to spend about the same amount of money on holiday gifts this year as they did last year, according to Accenture.
Satisfaction Up
Consumers who have purchased gifts online over the past four weeks say they are more satisfied with the experience than they were last year, the Goldman report found.
"The trend in this response will become more significantduring the peak holiday shopping time period," Noto wrote.
Pure-play e-tailers, notably Amazon.com (Nasdaq: AMZN) and EBay (Nasdaq: EBAY), are the "sites of choice" for most online shoppers, Goldman said.
According to the investment firm, Amazon is No. 1 for books, music and videos, and shares the top spot with eBay for toy purchases.
Bargain Hunting
Accenture also said that more people will be looking for bargains this year, with 45 percent of the survey respondents saying on-sale items will be "veryinfluential" in their purchasing decisions.
"Clearly, this holiday season will be highly promotional," said Angela Selden, managing partner for Accenture's North American retail industry group.
"Retailers who can attract customers with compelling promotions and convert that traffic into sales with appealing merchandise and in-store offers are poised to win," said Selden.
The Accenture survey, involving about 1,400 U.S. consumers, was conducted online between October 22nd and October 30th. Goldman's poll of 500 online shoppers is being conducted each week in conjunction with Harris Interactive and Nielsen//NetRatings.