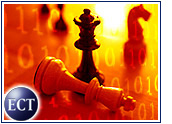 The next phase of e-commerce may cast the World Wide Web in a backup role.
Often mistakenly equated to the Internet, the Web's shortcomings as a commerce medium have analysts forecasting a new era of Internet commerce.
"[The Web] will be augmented and changed, not obsolete," Jupiter Media Metrix analyst Rob Leathern told the E-Commerce Times. "Technology companies will move away from the Web as a static published page, and will be more dynamic about how transactions and data move around."
By 2005, shopping online will be an interactive, dynamic experience on what Forrester Research calls an "executable" Internet. And by 2006, the number of non-personal-computer Internet devices – an "extended" Internet — will outnumber PCs, according to Forrester.
While the exact timeline remains disputed, most industry observers agree that we are on the cusp of a new age of e-commerce evolution, which may re-order the list of industry leaders.
What's Wrong, Web?
Cumbersome user interfaces and static, bandwidth-hindered experiences limit the Web's long-term value as the primary e-commerce platform, say analysts. Indeed, in a recent survey of business-to-consumer (B2C) Web sites, Forrester found the average user experience score to be -3 on a scale of -50 to +50, where +25 represented a passing score.
Today, conducting an online transaction, like buying an airplane ticket, is a static event, divorced from related commerce activities, suggested Leathern. In the next phase of Internet technology — what Leathern calls "meta services" — bits of user and transaction information will be shared among companies and other users to seamlessly conduct multiple related transactions at once.
In other words, booking business travel on tomorrow's Internet might automatically check for colleagues' meeting availability, and offer travel guides for purchase online or at stores en route, said Leathern.
Client Privilege
This more interactive Internet is not an uncharted landscape. The .NET initiative at Microsoft (Nasdaq: MSFT), the Open Net Environment (ONE) of Sun Microsystems (Nasdaq: SUNW), and IBM's Web Services (NYSE: IBM) are all forays into the delivery of commerce and other services dynamically on demand.
Under these architectures and others to come, waiting for Web pages to retrieve data from central databases will no longer typify online commerce, say analysts.
"Internet applications will execute code on the user's PC and other devices to enable one machine — or shopper — to talk to any other one on the Internet," Forrester analyst Evie Black Dykema wrote in a recent report.
As a result, shoppers will be able to purchase items online in seconds, using familiar drag-and-drop desktop skills, rather than wait for pages of text and graphics to load, said Forrester principal analyst Carl Rowe.
"As a user interface experience, the Web is lacking compared to client-based applications," Yankee Group analyst Neal Goldman told the E-Commerce Times, comparing Web-based e-mail to Microsoft's PC-based Outlook application. "What Napster reminded the industry is that there's value in having some part of the application run on the client."
Puny but Powerful
In addition to more dynamic execution of e-commerce on PCs and mobile devices, analysts are predicting widespread proliferation of tiny integrated circuits embedded within everything from ball-point pens to refrigerated trucks.
These embedded chips will form an "extended" Internet, which will build on the "executable" Internet to comprise what Forrester calls the "X Internet."
In this new environment, e-commerce will be robustly experiential instead of blandly static, analysts said.
Coffee and Chips
Companies are already experimenting with implanting microchips in physical objects, as Dykema mentions in her report.
Internet connectivity firm eDevice, for example, connects Lavazza's e-espressopoint coffeemaker to the Internet and then tracks an owner's coffee consumption, triggers a reorder of beans, and identifies the need for a maintenance check.
Sears Auto Center (NYSE: S) plans to place sensors in car parts that will let customers know when it is time for a new battery or set of tires.
And the Winner Is …
E-tailers and multi-channel retailers who are not charting post-Web e-commerce strategies are on shaky ground, some analysts said.
In fact, today's Web-based leaders like Amazon (Nasdaq: AMZN) and EBay (Nasdaq: EBAY) may be in trouble, with the biggest winners yet to emerge on the scene, Forrester Research founder and chief executive officer George Colony suggested at a recent trade show.
EBay declined the opportunity to speculate, as did Amazon.
"We are fully focused on retail sales for the holidays and we can't speculate about something that's years off," Amazon spokesperson Bill Curry told the E-Commerce Times.
Getting Personal
Due to substantial financial and behavioral investments already made in Web-based e-commerce, adoption of this new commerce paradigm may be slow, according to some analysts.
Additionally, the sharing of personal information involved in executable e-commerce will likely spark privacy concerns among consumers, said Leathern.
Indeed, 36 percent of online users would not trust any company to store their personal information, while 27 percent would trust their bank, and 15 percent are unsure, according to a recent Jupiter Media Metrix survey.
Up for Adoption
"People are notoriously stubborn," said Leathern. "Adoption will be an uphill battle."
Most obstacles to adoption, however, are not insurmountable, say analysts, and as the cost of manufacturing and embedding chips decreases, an X Internet will emerge. Eventually.
"There are certainly lots of improvements that can be made to Internet applications to improve the experience and opportunities to create new kinds of shopping experiences, but we're still working on it," said Yankee Group's Goldman. "The notion that your refrigerator will automatically trigger an order for milk when it detects you're running low is still beyond 2005."