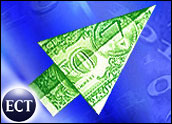 Amid relentless news coverage of the difficulties e-commerce firms have faced in reaching profitability, a study released Tuesday by ActivMedia Research found that half of online business-to-consumer (B2C) companies are bucking the current market downturn and operating in the black.
E-tailers that are managing to turn a profit in the face of the dot-com shakeout have often done so because they are the most active Web sites in terms of directly selling products and services to customers on the Internet, said the study.
However, Peterborough, New Hampshire-based ActivMedia said that high-profile online marketers may be the last to jump on the profitability bandwagon.
"As long as high-flying dot-coms are experiencing stratospheric growth, it will strain their ability to succeed," said ActivMedia market research vice president Harry Wolhandler. "The challenge for them will be to remain standing when online markets mature five or 10 years from now."
Added Wolhandler: "Online successes are instead found most broadly in the mid-sized business arena, where companies with in-place businesses increasingly capitalize on their extended communication capabilities."
Good Things Come …
More than one-third of all firms surveyed by ActivMedia for its "Online Success" study — including not just B2C, but business-to-business (B2B), online content and Internet Service Provider (ISP) companies as well — are currently profitable.
Within the next 12 months, ActivMedia said that 60 percent of all firms in the survey will be in the black.
The report cites the "relative newness" of Internet-based commerce as one possible reason for the small portion of online firms now eking out a profit.
… To Those Who Wait
Specifically, the study found that one third of B2B e-tailers are profitable, while another third expect to be profitable in the coming months. ActivMedia noted, however, that a "substantial proportion" of firms in the category are not aiming for online profitability, since their Web sites are simply used as marketing vehicles.
Meanwhile, one quarter of online content firms are operating in the black, said the study, with that number projected to grow over the next couple of years as the market matures.
ISPs face the most difficult road ahead, said the study, because they are "burdened by heavy competition online" and are "particularly affected" by other media that offer Internet access along with other services. One in four ISPs are currently profitable, the study said.
Growth Forecasts
"It's profitability, stupid" has been the mantra of e-commerce ever since the shakeout began — a mantra that has become increasingly desperate as the shakeout has deepened.
A report released last month by the Boston Consulting Group (BCG) advised Web merchants to adopt a five-pronged approach to satisfy customers and reach profitability. The BCG report found that most online retailers have hurt their chances of reaching profitability by being unable to respond effectively to customer demands.
The areas that the report said online marketers need to address in tandem were: visitor-to-buyer conversion rates, unique visitor traffic, proportion of repeat customers, orders per customer, and ratio of repeat-order revenue to first-time order revenue.
In January, eMarketer projected that e-commerce sales will see a slowdown in growth during the first half of this year, but will ultimately reach US$65.9 billion in 2001, a 57 percent increase from last year.