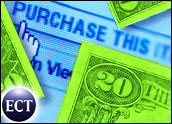 While many e-tailers beef up their sites with a host of technologicalbells and whistles to lure online customers, a studyreleased Tuesday by PricewaterhouseCoopers found that most of the new features do little to turn site visitors into buyers.
"The features that are most likely to increase the likelihood that an onlineshopper will make an online purchase at that site tend to be features thatmake the online shopping experience more like on-land shopping," saidPricewaterhouseCoopers e-retail intelligence director Mary Brett Whitfield.
"E-tailers need to avoid the technology trap — just because something istechnologically possible does not mean that online shoppers need or wantit," added Whitfield.
The report said that Internet marketers should focus their energieson developing full-bodied search engines and offering detailed productinformation and availability status — factors which are more likely to increase visitor-to-buyer conversion rates.
In addition, in order to boost sales, PricewaterhouseCoopers advised Web sites to provide flexible customer servicecapabilities, such as catalog quick order, and a toll-free phone number forshoppers to speak directly with a company representative.
Still Searching
Among the online consumers surveyed by PricewaterhouseCoopers, 77 percentreported that they have used a search function while shopping and mostwere satisfied enough with the results to use them on a regular basis.
Moreover, 43 percent ranked effective search functionality as the mostimportant online shopping feature.
Nearly a third of the respondents said that useful search functions wouldincrease their likelihood of buying something from an e-tail site.
Ready for Close-up
The study found that the next most popular set of features involved productinformation, including zoom-in images, merchandise reviews, and in-stockstatus, with 40 percent of e-shoppers saying that those features were important factors when selecting an e-tail site.
In fact, 44 percent of the respondents said that close-up product imageswould increase their likelihood of buying, while more than a third said thatitem availability and product comparison guides would do so.
Wishful Thinking
With many e-tailers launching second- and third-generation Web sites, there have been increases in customer-loyalty features such as wish lists, gift ideas and site personalization. However, PricewaterhouseCoopers said that thosefunctions are often less important to the consumer purchasing experience than search functions and detailed product information.
The survey found that only 19 percent of respondents ever used e-tail wish lists, andamong those only 13 percent actually forwarded the completed details to friends and family.
"E-retailers must monitor how consumers use current site features closelyand not be afraid to remove those that do not expedite or add value to theshopping process," said Whitfield.
To compile data for its study, PricewaterhouseCoopers conducted a one-weeksurvey of over 540 Internet users about their online purchasing habits andattitudes.