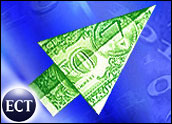 Online shoppers in the United States spent US$28 billion in the year 2000, according to a report released Thursday by the U.S. Census Bureau.
The report, prepared by research firm Jupiter Media Metrix, estimated that online purchases jumped about 62 percent over the $17.3 billion spent in 1999 and have nearly quadrupled since 1998, when shoppers spent $7.7 billion.
The Census Bureau report, contained in the latest Statistical Abstract of America, indicates that a strong surge in travel purchases, including airline ticket and hotel room reservations, helped fuel the increase.
Online shoppers spent $7.8 billion on airline tickets and $2.1 billion on hotel rooms. Personal computers made up the second largest category of sales, with $5.1 billion.
Stronger than Thought
Jupiter Media Metrix senior analyst Ken Cassar told the E-Commerce Times that the numbers appear to be about in line with expectations for the year, with stronger-than-expected growth in the first three quarters followed by a slightly slower holiday season.
"The interesting thing is that while investors have soured on the sector, sales growth continues to be stronger than we had thought," Cassar said. "Basically when we look at our growth curve, the hockey stick-shape growth persisted a little longer than expected."
Still On Track
The e-commerce growth spurt likely came to a halt at the end of 2000, according to the Jupiter study.
"Certainly by now, that's where the hockey stick broke," Cassar said.
The most important reason for slowed growth is probably the law of large numbers, which makes it difficult to continue the triple-digit growth rates of the early days of e-commerce. The chilly investment climate has also forced e-tailers to cut back on sales, marketing and discounts, Cassar said.
Overall economic conditions also play a role, though a small one, Cassar added.
Moving Target
Though the research firm adjusted its forecasted sales numbers to reflect stronger sales early in 2000, Jupiter remains confident that its prediction of total e-commerce sales of $213 billion by 2005 is on track.
Still, Cassar cautioned that the five-year forecast represents a period of time almost as long as the history of e-commerce.
"One thing we know for is that we won't hit right on the nose," the analyst said.
The Census report comes a year after the Commerce Department, which oversees the Census Bureau, began tracking online sales.
Holiday Highlight
The year-end report also highlighted the importance of the holiday shopping season to e-commerce. Several research firms, including Jupiter, had pegged sales during the eight-week holiday season at slightly more than $10 billion, or more than a third of the year-long total.
The latest figures also show which sectors rely most heavily on e-commerce for their revenue. Nearly a quarter of all computer hardware sales took place on the Web, while 21 percent of the software sold was bought online.