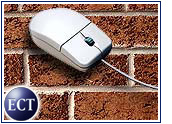 Brick-and-click sellers dominated the online holiday season in the UK,according to a new study released this week by Nielsen//NetRatings.
"Clicks-and-mortar retailers were able to start their holiday preparationsand marketing earlier and with higher visibility than their pure-playcompetitors," said David Day,director of analytics for ACNielsen eRatings.com.
"The 35- to 49-year-old age group is apparently reluctant to usenon-established brands," Day said, "so for pure plays, the lesson must be to find waysto expand their appeal to this group."
From September to December, the number of Internet pure plays drawingmore than 150,000 visitors in the UK rose from eight sites to 13, but the number of click-and-mortar sites with that level of traffic rose dramatically from one to 11.
As of November, seven of the top 20 e-commerce sites in the UK wereoperated by well-known offline brands.
Purely Playing
Despite the surge of brick-and-click companies, leading pure-play firms are still riding high in the UK. For example, the UK arm of U.S. giant Amazon.com, Amazon.co.uk, registered a 40 percent growth in unique visitors over the September to December period, reaching the one million UK visitor mark for the first time.
Amazon's European sitestopped the rankings in both England and Germany, but finished fourth inFrance behind three of the leading French sites.
Still, the attraction of established offline brands on the Internet is only beginning, according to Day.
"Most of their sites are very basic — and the successfulclicks-and-mortar brands in 2001 will be those who use their online channelsto increase customer loyalty to the integrated brand, rather than to make a few swift pounds or dollars at the peak times of year," Day said.
Mirror Image
In the U.S., brick-and-click companies have also increasingly found their place among the top U.S. Web sites, edging out Internet-only firms. According to Nielsen//NetRatings, seven of the top 10 U.S. e-commerce sites now belong to the brick-and-click category.
"Judging from the online performance of the United Kingdom's high-streetbrands, UK e-commerce may before long paint a similar picture," Day said."The crucial advantage these sites have over their pure-play counterparts istrust. In a year when e-commerce seemed to receive little but bad publicity,the support offered to consumers by a familiar name was worth more than anyadvertising."
Balancing Act
In the rest of Europe, offline brands might not be doing as a good a job ofleveraging their brand name on the Internet. According to the report, the balancebetween the holiday market share of pure plays and brick-and-clicks was more evenlydistributed in France and Germany.
In Germany, none of the top 10 e-commerce brands during the holiday seasonwas a brick-and-click retailer. In France, five brick-and-click storesbroke that nation's e-commerce top 20.
"France is a particularly fascinating e-commerce example because it haslargely resisted the temptation of the big American brands," Day said. "The recentlylaunched Amazon.fr has caught the online public's imagination, butAmazon.com has never performed as well in France as it has in the othermajor European markets."
Hong Kong Barrier
Although the majority of the Asia-Pacific region has seen strong growth ine-commerce, the report said that Hong Kong lagged behind. Day said theisland geographies of both Hong Kong and Singapore pose additional obstacles to the growth of e-commerce in those countries.
"Since both cities are custom-built for offline shopping, online retailersmust add even more value to convince shoppers to stay home and shop on theircomputers when going out is so relatively easy," Day said.