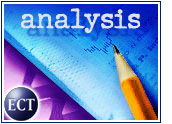 Home delivery of groceries and other sundries ordered online will endure, according to industry observers, but some leading Internet providers might not, unless they can adapt to marketplace demands and find offline partnerships to become profitable.
Yankee Group analyst Christine Loeber told the E-Commerce Times that the business models of two of the most recognizable e-tailers in the category — Webvan and Kozmo — have "fundamental problems."
Perhaps the most major dilemma for both e-tailers is that because they each made bold pledges on delivering orders — Kozmo promising delivery within an hour — they have had to build and stock warehouses in each of the markets they serve.
"Forecasting inventory requirements is a real problem," said Loeber, who likened the task to getting "out the crystal ball to see what's going to be hot this month."
Loeber said that stockpiling too much of an item could tie up excess dollars in items that are not selling. Stockpiling too few could cause customer service headaches.
Bigger Not Always Better
Expecting a large influx of customers to demand a variety of items delivered rapidly, Kozmo and Webvan expanded their product offerings over time.
Webvan started out as an online grocer, but then went into electronics, household goods and a host of other products. Kozmo offers food, books, videos, electronics and other merchandise.
However, some say the expansions may have been short-sighted.
"I think the everything model works better in theory than in practice," Morningstar.com analyst David Kathman told the E-Commerce Times. "It's more important to get the core business right before you expand."
Turning Down Partnerships
An alternative to warehousing material is to partner with other e-tailers to deliver goods, as Webvan did with PetSmart last month.
However, that path has its own set of problems, according to Loeber, because the e-tailer either has to rely on its partner to deliver merchandise on time, or has to purchase merchandise and warehouse it.
Offline Adversaries
As time goes by, pure play e-tail deliverers could find themselves competing against online delivery stores run by local supermarkets — a losing battle, eMarketer analyst Jonathan Jackson told the E-Commerce Times.
"That's a mistake," Jackson said. "It makes more sense to work with a local supermarket."
Local grocers have a "definite advantage, especially as the Internet becomes more mainstream," according to Kathman. He said that people new to the Net would feel more comfortable ordering from a familiar name.
Loeber agreed that local grocers would have the advantage in the online market, but said that to succeed, they would need to "charge efficiently to cover added costs" and convince customers that online delivery provides "added value."
Spontaneous Combustion?
Promising delivery within an hour and often delivering via bicycle messenger, Kozmo's core business is spontaneous buyers who decide at the spur of the moment to order dinner and a movie, according to Kathman.
However, Kathman said this is probably an "inefficient model," because for most people, placing an order online is more work than picking up the phone to order or making a trip to the corner grocery store.
Kathman and Loeber both pointed out that to turn a profit, Kozmo has to have a larger volume of orders than Webvan, because most orders are for low dollar amounts and have a low profit margin.
Be There or Be Hungry
At the other end of the spontaneity spectrum is Webvan, which requires customers to place their orders days in advance and arrange to be home during the designated delivery window.
Kathman said that so much advanced planning is involved in using Webvan that for some shoppers, there "isn't enough of an advantage."
However, services like Webvan and Peapod do have their place, according to Jackson. He said that Webvan has won fans among busy families, who like the convenience of being able to schedule delivery of items that they buy on a regular basis, such as diapers.
Alcohol and Cigarettes
One move that has been controversial for e-tailers is the decision by Kozmo and Webvan to offer cigarettes and alcohol in some of their markets. Jackson said the move made sense, because if Kozmo and Webvan are billing themselves as "an extension of the local supermarket, they might lose some business" if they did not offer those products.
Jackson and Kathman agreed that requiring drivers to verify customer ages before delivering alcohol and tobacco would not place an undue burden on the drivers, and suggested that the companies could implement online age verification systems.
Loeber disagreed and said it was a "bad move," particularly for Kozmo, which promises delivery in an hour.
It's a "lot of time and effort for very little return," she said.
Going the Next Mile
Several factors will determine the direction that e-tail delivery ultimately takes. Jackson believes that today's children growing up with the Internet as a part of their day-to-day life will be more comfortable ordering online than their parents.
However, e-tailers cannot afford to sit passively by and wait for their audience to mature. They need to refine their business model to find the perfect mix of goods that customers want, that are easy to deliver and that have a high profit margin.
Companies have to realize that they cannot "be all things to all people," Kathman said. He added that companies have to be willing to dump unprofitable product lines.
The only thing certain about these e-tailers is that, despite the benefits they provide, "they'll never eliminate the corner grocery store," according to Jackson.