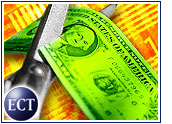 Six months after being rescued from the brink of bankruptcy, online grocer Peapod, Inc. (Nasdaq: PPOD) continues to see increasing financial losses, reporting Wednesday that it fell well short of earnings estimates for the third quarter.
Chicago-based Peapod said it lost $9.8 million (US$), or 55 cents per share, missing Wall Street estimates for the third quarter by 9 cents. A year ago, Peapod lost $9.4 million, or 53 cents a share.
Sales for the quarter reached $21.8 million, up from $16.5 million over the same period in 1999.
Grocers Struggle
Peapod's earnings shortfall comes just a week after fellow online grocer Webvan (Nasdaq: WBVN) reported a larger-than-expected quarterly loss, due in part to its takeover of Homegrocer.com.
While online grocers have struggled to date, analyst Amanda Reiss of Cambridge, Massachusetts consulting firm Mainspring, Inc. believes that a strong online grocery sector will emerge once the weaker entrants are weeded out. Peapod has taken a wise approach by targeting such high-end markets as Chicago and Connecticut, she notes.
"Grocery shopping is a deeply entrenched behavior," Reiss told the E-Commerce Times. "It's natural that consumers are slow to adopt. But if they can hang on, the companies that are trying hard to crack the nut will be the ones that reap the benefits."
By Their Fingernails
Peapod stock has been trading below $5 per share since mid-March, when the company's financial woes became public after a planned investment of $120 million fell through and the company's chief executive officer departed.
In trading early Thursday, Peapod's share price ticked up 1/16 to 1 1/16.
In April, Dutch grocery giant Royal Ahold threw Peapod a lifeline when it bought a controlling share in the company for $73 million and extended a line of credit. Earlier this month, Royal Ahold increased its stake in Peapod, buying an additional 2.3 million shares of stock.
The Climb Back
That close relationship with Ahold, which runs 7,000 grocery stores worldwide, is what will help Peapod turn the corner to profitability eventually, Peapod president and CEO Marc van Gelder said.
For proof, van Gelder points to southern Connecticut, where Peapod recently launched under the Stop & Shop brand name and where the Web grocer has seen faster growth than any other new market. The close ties to Royal Ahold provide additional marketing opportunities and "stronger buying power versus other online grocers," van Gelder said.
Some Good News
The company said it could be profitable by the middle of next year in at least one market — Chicago, where Peapod's highest segment of customers is and where it recently took over the operations of upscale Web grocer Streamline.com.
Among the other glimmers of hope in the earnings report was an overall increase of 37 percent in orders placed. Peapod said more growth is on the horizon with a launch in the Washington, D.C. area, where Peapod also acquired Streamline assets, early next month.
The company also hopes to boost operating efficiency by quitting markets where it picked orders off of store shelves — including Texas and Columbus, Ohio — in favor of those where Peapod or Royal Ahold have order fulfillment centers in operation.