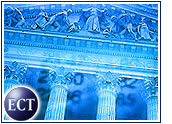 Even with its slender gain of 1.89 points Friday, the Nasdaq composite stock index has risen nearly 300 points since 2001 began — a 12.1 percent improvement in 13 business days.
The Goldman Sachs Internet Index is up 34.70 for the year to 216.34, a 19.1 percent increase.
But are e-commerce stocks joining in on the rally? With a few key exceptions, according to Morningstar.com analyst David Kathman, the answer is apparently not.
"For most of the Net stocks, we're seeing a dead cat bounce," Kathman told theE-Commerce Times. "They've fallenso far there's a little bit of a feeling that because they're so cheap,people are bargain hunting."
Added Kathman: "There's no real fundamental reason behind therise. I'm still fairly skeptical of pure play e-tailers."
eBay's Winning Bid
In fact, Kathman is doubtful many of the major e-tailers will even survive.Many dot-com companies, such as Webvan (Nasdaq: WBVN), Buy.com (Nasdaq: BUYX), Barnesandnoble.com (Nasdaq: BNBN) and eToys (Nasdaq: ETYS) remain in realdanger of running out of money, Kathman said. Of this group, only Barnesandnoble.com closed above US$1 per share Friday.
The exception to the e-commerce stock shakeout is eBay (Nasdaq: EBAY). The Net auction house, which impressed Wall Street with its most recent earnings report Thursday, closed Friday at $50.17 and is up 52 percent in 2001.
"eBay is rebounding for good and it's justified," Kathman said. "eBay isn't just eking out a profit; their net margin is 18 percent. That's better than mostcompanies, regardless of whether they're on the Internet or not."
Amazon's Strength
Amazon.com (Nasdaq: AMZN), which closed Friday at $19.94 — up 28.1 percent for the year and 47 percent from its 52-week low — is another company whose stock recovery may be legitimate, Kathman said.
"I'm cautiously optimistic of the chances of Amazon surviving," Kathman said. "My gut feelingis that Amazon will make it to at least cash flow profitability this year. The company has done a pretty good job of hitting marks over last year and moving towardsthat goal."
The analyst said that for other e-tailers "just selling stuffonline," it's going to be pretty tough to survive, much less reachprofitability.
Survival Instincts
One of the key issues for all the major e-tailers is dealing with unrealistic growth expectations.
"These companies grew so incredibly fast, it has to stop at some point — wejust don't know when," Kathman said.
The growth has already stopped for many dot-coms, with their customers turning away from Internet-only merchants and toward brick-and-click retailers. As the demographics of Internet consumers continue to become more mainstream, new online shoppers who are less tech-oriented will be more likely to go with a brand name they already know offline, Kathman said.
"We already saw that in the past holiday season where brick-and-mortarslike Walmart.com and BlueLight.com did quite better overall than most of thepure play e-tailers," Kathman said. "A lot of people are getting disenchanted withInternet-only retailers. They consider names they know to be a safe harbor."
Making Friends
Thus, in order to survive, pure plays still have to consider forging new alliances, Kathman said.
"The main way to survive is to team up with brick-and-mortar companies — that's the wave of the future," Kathman said.
Kathman pointed to Amazon.com's partnership with Toys 'R' Us, and the exclusive alliances of CyberianOutpost (Nasdaq: COOL) with Brookstone and Wolf Camera, as examples ofthe steps that e-tailers must take to reach the next level of maturity.