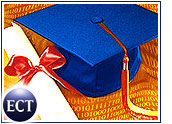 Despite the ongoing dot-com shakeout, the field of e-commerce education in the United States continues to develop. Over the past several years, graduate business schools have attempted a variety of strategies on how to inculcate e-commerce concepts into traditional business school courses.
Among the top-rated programs, some curriculum designers have created new specialization tracks that emphasize e-business, while others have opted to infuse their existing curriculum with e-commerce principles.
Now, as the e-commerce industry matures, it appears that there is ample room for both approaches.
E-Commerce U.
A review of the catalogs of the top professional business schools reveals that e-commerce has arrived as a central element of business school training and professionalization.
While some high-ranking programs only offer courses in e-business, the University of Michigan Business School (UMBS)– long considered an innovative leader because of its technology-based MBA program — has devoted an entire track of the business school to e-commerce.
While UMBS recognizes that issues of e-commerce will likely be relevant in all traditional business school courses, the e-commerce specialization provides students with specific training in e-business strategy, marketing, finance and management. Course titles range from "Starting an e-Business" and "Creating Value in the Network Economy" to "E-Commerce Law and Ethics."
"Giving students the option to take an e-commerce class is quite costless," UMBS Professor Joshua Coval told the E-Commerce Times. "The best way to train students is to give them a lot of options and different courses. The students themselves will figure out which of the courses train them better for what they intend to do."
Mock.com
Coval's new course, "From Idea to I.P.O. in 14 Weeks," is sure to meet student demand in Ann Arbor this fall. The course requires that students develop a business plan with the intention of starting a dot-com company. Representatives from major venture capital firms dispense professional advice at the beginning of the course and then return at the end of the term to evaluate how the dot-com idea has developed.
"There's a lot of demand for it from the standpoint of the students," Coval added. "This course gives students a unique opportunity to put all their energies into creating a business while they still have some flexibility in school."
E-Commerce Not Distinct
Unlike UMBS, the Stanford University Business School faculty chose not to add a separate e-business track to their curriculum and elected instead to integrate e-commerce issues comprehensively throughout the core curriculum.
However, Stanford did create a Center for Electronic Business and Commerce (CEBC) to help develop and disseminate e-commerce curricula for teaching purposes while encouraging connections between students, faculty, and practitioners in the surrounding region. The center is funded to operate for five years and will concentrate on transforming older companies into e-businesses as well as launching new entrepreneurial ventures.
"When we started the center, we didn't want to have a separate academic program on e-commerce," CEBC co-director Haim Mendelson told the E-Commerce Times. "We don't think that e-commerce can really be separated from traditional commerce. We have a set of approaches and managerial practices that affect all business."
Students More Entrepreneurial
Whether or not the dot-com economy has encouraged business students who are more interested in entrepreneurial career opportunities than other aspects of business is difficult to determine. Many academics believe that the pursuit of entrepreneurial training predates the era of Internet start-ups.
"There has been an increase over time that more and more students who come to Stanford want to start their own companies," Mendelson said, "but this started before the dot-com phenomenon."
Meanwhile, the recent volatility of e-businesses in the stock market has re-emphasized the call for balance in e-commerce curricula, regardless of what departmental structure those lessons take.
"When I taught courses on e-commerce one year ago when there was a lot of enthusiasm," said Mendelson, "we looked at companies with questionable economics. One of the topics that we teach is how to analyze the value of a company. It's strengthened the rational approach to the analysis and lessened the impact of hype."
Professor Coval agrees that calmer dot-com heads may prevail after a raucous summer for tech stocks. "I'm up front with the fact that creating a start-up is a huge amount of work for a risky gamble," he said, "but there's still so much demand for the course."