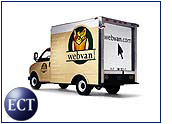 Webvan Group (Nasdaq: WBVN) said Thursday that it will "dramatically reduce overhead costs" in order to conserve its cash reserves and avoid the need to return to the capital markets before the end of 2001.
Webvan was up 30 U.S. cents to 84 cents in early morning trading, a 54.3 percent gain. However, analyst David Kathman of Morningstar.com told the E-Commerce Times that he remains pessimistic about the firm's outlook.
"They're just not getting enough people using the service," Kathman said, noting that in the San Francisco area, orders per day are still 30 percent below the break-even level. "They've got a long way to go and not much time to get there."
Kathman noted that even with the cost cuts in place, Webvan will need as much as $60 million in cash late this year or early in 2002.
"I can't see them getting any more funding in this market," Kathman added. "It doesn't look good."
Wider Q4 Losses
Webvan chief executive officer George T. Shaheen said the company will delay rollouts in several eastern cities and continue to reap savings from hundreds of job cuts associated with its consolidation of HomeGrocer, which it acquired last year for $1.2 billion.
"We're operating in a much different world now than we did even a year ago," Shaheen said.
The cash-conservation pledge came as the Foster City, California firm reported wider losses for the fourth quarter.
Further Job Cuts Eyed
Webvan said it lost $109 million, or 23 cents per share for the quarter, up from $56 million, or 15 cents a year earlier. Sales for the quarter were up more than 300 percent to $84.2 million, an increase attributed largely to the addition of HomeGrocer sales.
Webvan said it has indefinitely delayed planned launches in Maryland, Washington, D.C. and New Jersey to focus on existing markets. The company said it had $211 million in cash on hand.
Shaheen indicated that more job cuts may stem from the decision to hold back on national expansion, but gave no details. The company has already reduced its head count from 4,879 to 4,447 since closing its acquisition of HomeGrocer in December, including two rounds of layoffs late last year.
Cash Needs at Issue
The company had previously estimated that it would need to raise as much as $100 million in capital by the third quarter of this year.
Meanwhile, Webvan has been notified by the Nasdaq stock exchange that it will face de-listing if it cannot get its per-share price over $1.
"We're considering all options to get that stock price above a dollar," Shaheen said. "And we'll continue to do that."
Customer Count Up
Webvan said its roster of active customers has increased 22 percent to 640,000 since the HomeGrocer merger was finalized. Average order size has grown to $112, a 9 percent increase during the same time.
Earlier this week, Webvan announced a strategic partnership with Petsmart.com that will give Webvan a present in Petsmart's brick-and-mortar stores.
"Petsmart has been very creative in working with us," Shaheen said. "They recognize the impact on them can be very positive."