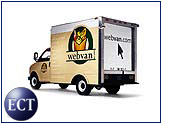 Online grocer Webvan (Nasdaq: WBVN) announced Friday it will delay its scheduled expansion and a planned distribution center move in order to concentrate on obtaining profitability and integrating its systems with those of acquired rival HomeGrocer.com.
"For the near term, Webvan's energies will be directed toward our integration into a single brand operating with a common technology platform," said George T. Shaheen, president and chief executive officer of Webvan Group.
"We are committed to bringing out the best in both companies," Shaheen added, "and will dedicate our resources to fully unify our organization by the second quarter of next year."
Single Identity
On paper, Webvan's $1.2 billion (US$) merger with HomeGrocer.com was completed earlier this month. In reality the merger is just beginning, as the former competitors have to learn to work together and find a way to integrate their two different technology platforms.
Webvan also has to begin establishing a single identity under the Webvan name and work to gain the trust of HomeGrocer.com's former customers in Seattle, Washington; Portland, Oregon; and Southern California.
Establishing this single identity may not be easy or painless, as the 50 former HomeGrocer.com employees who were laid off earlier this month can attest. Those layoffs, announced the day the merger was completed, affected mostly white-collar workers at HomeGrocer.com's Kirkland, Washington headquarters.
Watching the Bottom Line
During the first half of 2001, in addition to focusing on integration, Webvan will be striving to reach profitability, something that has been elusive in the dot-com world.
The company lost $57.1 million during the second quarter, compared to a loss of $38.7 million during the first quarter. This slide happened despite an increase in company revenues to $28.3 million in the second quarter from $16.3 million in the first.
Webvan said that it plans to work toward profitability by conserving its working capital and closely monitoring its cash burn rate.
Delays Announced
Consequently, the company will have to delay its scheduled expansion into the Baltimore-Washington, D.C. and Bergen County, New Jersey markets. Previously slated to occur in the fourth quarter of 2000, these expansions will now take place in the second half of 2001.
The company also said that a planned move of its distribution center in Renton, Washington to a facility in Kent, Washington, would occur in the second quarter of 2001 rather than in the first quarter of 2001.
"We believe that by focusing our key resources on bringing our existing operations to profitability, we will be in a better position to significantly reduce the capital needed to drive our business in 2001," Shaheen said. "Webvan expects to continue its national growth strategy, including future commercial launches on the East Coast and across the nation."
Webvan currently serves markets in Atlanta, Georgia; Chicago, Illinois; Dallas/Fort Worth, Texas; Orange County, California; Portland, Oregon; Sacramento, California; San Diego, California; San Francisco, California; Seattle, Washington and Los Angeles.