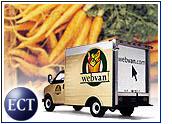 Internet grocery service HomeGrocer.com has slashed roughly 100 jobs — the second workforce reduction in recent months — as it continues consolidating operations with Webvan Group, Inc. (Nasdaq: WBVN). Webvan purchased HomeGrocer for US$1.2 billion earlier this year.
The current round of layoffs account for nearly a quarter ofHomeGrocer.com's workforce and will affect employees at the Kirkland,Washington headquarters. During the formal completion of the merger in September,HomeGrocer.com handed pink slips to 50 workers.
According to published reports, more cuts are expected at HomeGrocer.comas Webvan works to establish a single brand and further integrate thetwo technology platforms.
Costly Takeover
Although the acquisition of HomeGrocer.com gave Webvan an edge in theInternet grocery sector, the transition has not been seamless. In October, Webvan reported a wider-than-expected loss for the thirdquarter due in part to the takeover.
In addition, the Foster City, California-basedcompany has been forced to delay its entry into theBaltimore-Washington, D.C. and northern New Jersey markets because it is working on theintegration of HomeGrocer.com operations in existing service areas.
Previously slated to occur in the fourth quarter of 2000, the expansion will now take place in the second half of 2001, the company said.
Webvan currently serves markets in Atlanta, Georgia; Chicago, Illinois;Dallas/Fort Worth, Texas; Los Angeles and Orange County, California; Portland, Oregon;Sacramento, California; San Diego, California; San Francisco, California; andSeattle, Washington.
Last month Webvan began charging delivery fees to customersordering less than $75 worth of goods.
Struggling Sector
Dot-com companies have struggled to gain a foothold in the grocery market.
In November, Web grocer Streamline.com — which served the Boston, Massachusetts and northern NewJersey areas — shuttered its operations after failing to secure an infusionof capital or find a buyer. The closure came just two months after thetroubled company sold some of its assets and operations to rival Peapod.
For its part, Peapod was saved from bankruptcy earlier this year afterEuropean food giant Royal Ahold pumped $73 million into the company.Peapod, however, continues to report an earnings shortfall.
In yet another Web grocery shakeout, Priceline.com announced in October that it was going to discontinue the online grocery service that it had offered through licensee WebHouse Club.
Despite these woes, industry analysts say that a successful Web grocer modelis possible. The analysts recommend that companies in the sector focus on high-end markets, limit their delivery schedules and strike partnershipswith brick-and-mortar grocers.