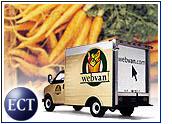 Further shrinking what is already a highly competitive e-commerce sector, online grocer Webvan Group, Inc. (Nasdaq: WBVN) announced Monday that it has agreed to acquire rival HomeGrocer.com for $1.2 billion (US$) in stock.
The move is yet another step in Webvan's strategy to expand its geographic reach, along with moving beyond groceries to become an all-purpose Internet retailer. Earlier this month, the company added consumer electronics and videos to a product lineup that includes pet supplies, kitchen and bath accessories, books, home hardware, office supplies, hosiery and a "smoke shop."
Touted as a hot IPO last year, Webvan debuted November 5th at $15 per share but is currently trading well below that level. Mounting concerns about the sector accelerated Friday as shares of giant e-tailer Amazon.com plummeted 19 percent.
The Kirkland, Washington-based HomeGrocer went public in March at $12 per share, backed by Amazon.com, Kleiner Perkins Caufield & Byers, and the Barksdale Group. While revenue for the year ended January 1st rose almost 1,900 percent from the prior year, HomeGrocer's net loss widened to $84 million from $8 million.
Shares Drop
Shares of both companies were lower after the announcement. Webvan was down 29/32 early Monday at 7 13/16, and HomeGrocer was 15/32 lower at 7 5/8.
HomeGrocer shareholders will get 1.07605 Webvan common shares in exchange for each of their shares. Webvan will issue a total of about 138 million shares to buy its rival.
Directors of both companies approved the merger, which the companies expect to complete by early in the fourth quarter.
'Last Mile' for Webvan
"Clearly, the online marketplace is evolving," said Webvan President and Chief Executive Officer George T. Shaheen. "By combining, the companies will reduce costs and improve finances. It is also a good fit from the standpoint of market reach, expansion, and fulfillment and distribution infrastructure."
Shaheen will remain president of the combined company, and Webvan founder Louis Borders will remain chairman. Barksdale Group head Jim Barksdale will also join the Webvan board. The companies stressed that they have $650 million in cash as of the end of May.
Webvan may need to raise up to $275 million in capital markets, but will also have the ability to self-fund its growth over time if necessary. Webvan is projecting pro forma revenue of $300 to $325 million this year and $1.1 to $1.2 billion next year.
Webvan plans to serve 13 markets by the end of the year: Atlanta, Georgia; Baltimore, Maryland; Bergen County, New Jersey; Chicago, Illinois; Dallas, Texas; Los Angeles; Orange County, California; Portland, Oregon; Sacramento, California; San Diego, California; San Francisco, California; Seattle, Washington; and Washington, D.C.
The two companies combined currently serve nine markets.