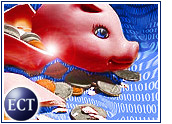 Internet grocer Streamline.com announced Monday that is winding down its operations after failing to secure an infusion of capital or find a buyer to acquire the troubled company.
The Westwood, Massachusetts-based firm, which delivers groceries and similar consumer products, said it plans to discontinue all services by November 22nd. Founded in 1993, Streamline.com operated in the Boston and northern New Jersey markets.
"This is an extremely difficult market for raising capital needed to finance Internet retailing businesses," said Streamline.com founder and chairman Timothy A. DeMello. "After months of extensive discussions with potential strategic and financial partners, we believe we have thoroughly exhausted all possible options and must discontinue our service."
Exploring Alternatives for Months
The company said it will sell its remaining assets and use the proceeds, along with existing cash, to pay creditors. Streamline.com also said it will provide severance to employees and retain a small staff to oversee its asset sale and shutter its operations.
Streamline.com began exploring strategic and financial alternatives in May, and sold its Chicago, Illinois and Washington, D.C. assets and operations to rival Peapod in September for US$12 million.
At the time, Streamline said the divestiture would allow the company to focus on growing its core market, the Northeast U.S., while putting the company on the path to profitability. However, Streamline's additional attempts to forge partnerships with potential investors to provide financing or acquire its remaining operations proved unsuccessful.
In the end, because of the failed negotiations — coupled with current dim conditions on the financial markets for business-to-consumer (B2C) Internet firms — Streamline determined that "the interests of its employees, customers and creditors would be best served by the company's prompt and orderly cessation of operations."
Net Grocers Struggle
Earlier this year, Peapod itself was saved from bankruptcy after European food giant Royal Ahold pumped $73 million into the service. Just last month, however, Peapod reported that it continues to see increasing financial losses.
In its quarterly earnings report, Peapod said it lost $9.8 million during the third quarter.
Peapod's earnings shortfall came on the heels of a similar disclosure by online grocer Webvan, which issued a report showing a larger-than-expected quarterly loss due in part to its takeover of Homegrocer.com. Last week, Webvan said it would begin charging delivery fees to customers ordering less than $75 worth of goods.
One of the most significant failures in the sector was the shutdown of Priceline.com licensee WebHouse Club, which announced last month that it was discontinuing its grocery service and gasoline sales.
Room To Grow Groceries
Despite the inability of Net grocers to gain a foothold in the e-commerce market, industry analysts believe that a strong online grocery model will emerge once the weaker entrants are weeded out.
In order for a Web grocer to succeed, analysts suggest companies in the sector focus on targeting high-end markets, limit their delivery schedules and strike partnerships with brick-and-mortar grocers.