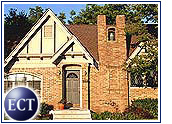 Homestore.com (Nasdaq: HOMS) said Thursday that the U.S. Department of Justice (DOJ) has signed off on its planned purchase of Move.com, setting the stage for the Net's largest real estate firm to become even more dominant.
Westlake Village, California-based Homestore said that while investigators are still considering some minor parts of the deal, "including certain agreements between Homestore.com and Cendant," the DOJ will not oppose closing of the deal, which is slated for Tuesday.
Homestore first announced its intention to buy Move.com from Cendant (NYSE: CD) in October in a stock swap now estimated to be worth about US$900 million.
The proposed deal immediately drew the attention of the DOJ's antitrust division. Investigators were especially interested in the fact that Homestore is poised to control about 90 percent of all Internet home listings.
Growing Network
After the acquisition, Homestore will extend its already dominant lead in the online real estate space. Homestore operates sites such as Realtor.com, HomeFair.com and HomeBuilder.com. Homestore also has a long-standing partnership with the National Association of Realtors, a relationship that has drawn criticism from independent realtors.
Homestore got a separate boost on Thursday when influential Internet analyst Henry Blodget of Merrill Lynch named the stock as one of several online e-commerce and media companies, along with Yahoo! and others, worth buying.
Last month, the real estate network impressed investors by beating analyst estimates for the fourth quarter, though the company is still losing money.
Dominant Force
Homestore also said that new data released by Jupiter Media Metrix shows that more than 5 million people visited its site during January, a new record for the company and a 50 percent increase over December.
Homestore gets a large percentage of its traffic through a marketing deal with America Online.
Stuart Wolff, Homestore's chairman and chief executive officer, called the numbers "an important milestone" in Homestore's history. Homestore also said that it was named the leading real estate site on the Internet in the Media Metrix rankings for the 24th straight month.
eBay Eyes Real Estate
In related news, Homeseekers.com (Nasdaq: HMSK) said Thursday that it had finalized a deal to put its home listings on eBay, as the auction giant looks to expand further into the real estate field.
Due to launch in April, the co-branded real estate store will initially feature fixed-price house listings and later be expanded to include auctions. Currently, many U.S. states do not recognize the legitimacy of auctions to sell houses.