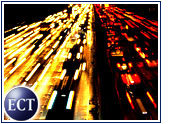 Usage of the Internet at work increased 23 percent in the past year, reaching a total of 42.3 million surfers, according to a report released Wednesday by Nielsen//NetRatings.
The audience measurement firm's June 2001 Internet ratings found that online users are averaging 43 log-ins per month while at work, up 10 percent from June 2000.
"Nearly 15 percent of all Americans access the Internet from their workplace, and that will continue to grow," NetRatings vice president of analytical services Sean Kaldor said.
A year ago, the average Web surfer at work visited an average of 28 sites for the month. This year, online users are averaging 35 site visits — a 25 percent jump.
Time spent online in June 2001 averaged 22 hours and 38 minutes, up nearly 2 hours and 8 minutes from the previous year.
"What's interesting about the latest trafficking numbers is (how they compare to) home surfing," Kaldor told the E-Commerce Times. "Last year, home surfers on average visited 10 sites per month. This year, it's still the same amount. At-home surfing use isn't increasing."
Corporate, Travel Sites Shine
Traffic increased to nearly every Web site category, according to NetRatings. Corporate information sites, such as IBM.com (NYSE: IBM), Xerox.com (NYSE: XRX) and Cisco.com (Nasdaq: CSCO), grew the fastest, increasing almost 50 percent from last year.
Financial sites, represented by JP Morgan Chase (NYSE: JPM), Capital One (NYSE: COF) and Providian (NYSE: PVN), jumped 42 percent.
Another impressive leap in the NetRatings report came from one of e-commerce's hottest sectors: online travel. Led by Travelocity (Nasdaq: TVLY), Expedia (Nasdaq: EXPE) and newcomer Orbitz, travel sites increased traffic 31 percent from a year ago.
"We're not surprised," Expedia product manager Kristina Kozlss told the E-Commerce Times. "A lot more people are turning to the Internet to do business. It's just an easier way to do things, especially for travel."
'Routine' Special Occasions
Other popular sites for U.S. workers included telecom and Internet service sites, which increased traffic 28 percent from a year ago, and special occasion sites (selling such items as greeting cards and flowers), which jumped up 27 percent from last year.
"It's pretty clear, workers are using the Web more than ever as part of their daily work routine," Kaldor said.
AOL Rules Overall
AOL Time Warner (NYSE: AOL), Yahoo! (Nasdaq: YHOO) and MSN (Nasdaq: MSFT) continue to dominate the combined work-and-home surf charts. AOL boasted 76.9 million unique visitors, who averaged better than 72 minutes per visit.
Yahoo! trailed AOL with 68.1 million visitors — although at 2 hours and 8 minutes, Yahoo! users stayed nearly twice as long. eBay (Nasdaq: EBAY), which was 10th in unique visitors at 22.3 million, also kept them for an average of over two hours.
NetRatings collects real-time data from approximately 62,000 at-home users and 8,000 at-work users.