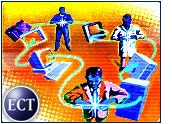 Electronics e-tailer X10.com leapfrogged over Amazon.com (Nasdaq: AMZN) and eBay (Nasdaq: EBAY) in the May rankings of the Top 50 most visited Web sites, according to a report released Wednesday by Jupiter Media Metrix.
Driven by a "pop-up" and "pop-under" ad strategy that accounted for 95 percent of its traffic, X10.com moved up in the rankings from No. 14 in April to No. 5 in May. Unique visitors to the site increased by 87 percent, from 15.3 million to 28.6 million. However, the traffic numbers include any Web surfer who has a new window launched displaying the ad, whether or not the user clicks through to the X10.com site.
Amazon also moved up the chart, rising from the No. 10 position overall in April to No. 9 in May. Amazon saw an increase of 853,000 unique visitors to reach 20 million.
Meanwhile, eBay fell from 11th to 12th in the rankings, despite an increase of monthly traffic from 18.4 million in April to 19.2 million in May.
The top four most visited sites remained the same, with AOL Time Warner (NYSE: AOL), Microsoft (Nasdaq: MSFT), Yahoo! (Nasdaq: YHOO), and Lycos (Nasdaq: TRLY) finishing ahead of the pack. Last month's No. 5, the Excite (Nasdaq: ATHM) network, fell to No. 6.
Newcomers to the Top 50
Online job listing site Monster.com broke into the Top 50 at No. 41 with 7.1 million unique visitors.
Other sites new to the Top 50 include entertainment site UGO networks, debuting at No. 44 with 6.8 million unique visitors; e-commerce ratings service Bizrate.com, premiering at No. 48 with 6.2 million unique visitors; and online marketing service Internetfuel.com, breaking in at No. 50 with 6.1 million unique visitors.
Two sites that offer marketing services that use barcodes to link products to Web sites — Softcoin.com and Qode.com — also entered the top 50 with 2.2 million and 1.2 million unique visitors, respectively.
Other top newcomers were Fritolaycash.com, a sweepstakes site for Frito-Lay and Tropicana, with 2 million unique visitors; online casino Vegasvilla.com with 1.1 million unique visitors; and Bmwfilms.com, BMW's site featuring short films directed by movie directors, with 787,000 unique visitors in May.
Napster Slide
Music file-swapping service Napster dropped from No. 19 in April to No. 23 in May, with the number of unique visitors to its site decreasing from 12.3 million in April to 10.9 million.
Napster's highest ranking this year came in February, when the controversial site reached No. 13 by posting 16.9 million users. In March, however, a federal court ordered the site to start blocking the transfer of copyrighted music files.
More Women
Adult women continue to outnumber men on the Web, according to Jupiter.
The New York City-based research firm said that women over the age of 18 now comprise 40.9 percent of all online users, up from 40.3 percent in May 2000 and 39.3 percent in May 1999.
In contrast, men age 18-and-over comprise 39.8 percent of all online users, down from 40.1 percent in May 2000 and 45.7 percent in May 1999.
"Women continue to tip the scale when it comes to their representation online," Media Metrix president Doug McFarland said. "It's been a year since women have leveled the field, but the ratings show that they're not through yet. Marketers and online advertisers must not lose site of this important demographic as it continues to shift the online landscape."