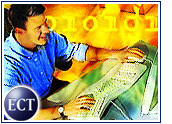 The two fastest growing online age groups during the past year are 18 to 24-year-olds and people over 55, according to a report released Monday by Jupiter Media Metrix.
The New York City-based research firm said that between April 2000 and April 2001, the number of Netizens age 55 and over grew by 33 percent, while the number of 18 to 24-year-olds online grew by 32 percent. Overall Web usage grew by 19 percent during the same period.
Jupiter said that although 25 to 34-year-olds comprise the largest single age group online, collectively 18 to 24-year-olds and the over-55 crowd outnumbered the 25 to 34-year-olds by 5.5 million in April 2001.
"These rapidly increasing age groups, which often have more leisure time than other demographic segments, are driving fundamental shifts in the digital media landscape," said Media Metrix president Doug McFarland.
According to McFarland, while the college-age demographic has long been a sought-after segment, Webmarketers and advertisers should remember thatpeople over 55 have "strong buying propensity and potential for sheer audience size."
Top Newcomers
Also during April, a pair of bargain hunting sites Savingsfinder.com and Bargainandhaggle.com made their first appearances on Jupiter's traffic ratings list. Savingsfinder.com debuted with 1.17 million unique visitors and Bargainandhaggle.com pulled in with 813,000 uniques.
Other top newcomers for the month include a NetIdentity front page, TheGourmet.com, with 2.1 million unique visitors and EllisIslandRecords.org, a site offering genealogy records, with 1.9 million. InfospaceHosting.net also made its debut on the list with 1.3 million visitors.
Another newcomer, Surfsufari.com, which offers Web searching tools, came in with 1.2 million unique visitors.
The top five sites in terms of overall traffic, however, were the usual fare: the AOL Time Warner Network, the Microsoft sites, Yahoo!, Lycos and Excite.
Seasonal Reasons
The approach of summer also brought out the ice cream lovers — Baskinrobbins.com debuted as a Jupiter newcomer with 983,000 unique visitors.
Jupiter also said that traffic to flower, gift, and greeting card sites grew signficantly from 16.5 million unique visitors in March to 20.1 million in April. According to Jupiter, the increase was likely due to the Easter and Passover holidays.
Napster's Fall
The April traffic report from Jupiter included droppers as well as gainers.
The audience measurement firm said that traffic to digital-download music site Napster fell from a peak of 16.9 million unique visitors in February to 12.2 million in April. The site also fell in the rankings, dropping five places to No. 19.
A March report by Webnoize found that Napster use dropped by 25 percent after a federal court order prompted the file-swapping site to begin filtering out copyrighted music.
Traffic to Bearshare.com, another file-swapping site, also fell during April, according to Jupiter. The site's number of unique visitors decreased from 520,000 in March to 247,000 in April.