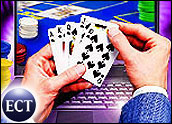 Although many sports Web sites in the United Kingdom are adding gambling services in an effort to boost income levels, the country'ssaturated online sports marketplace will face a squeeze in the coming years with a number of companies falling out of the game, according to a reportreleased Monday by ForresterResearch.
"Those sites developing in-house betting capabilities will retain all theaccrued revenue, but will also bear the burden of a higher level of cost,"said Forrester analyst Rebecca Ulph. "Without this new revenue stream torely on, the sports market will be over-supplied and, despite recentclosures, more casualties should be expected."
In the next two years, the firm said, Web sites Sports.com, Sky and the BBC will dominate the multi-sports market, while sites that cannot acquire strong, unique and focused content will beforced to close.
In conducting the study, "The Online Sports Survival Guide," Forrester surveyed 31 sports Web sites, including pure plays and offline media company sites.
Dollars Flowing
The study predicts that sports-related and gambling Web sites in the UK will only retain US$99 million of the estimated $991 million expected to flow through their sites annually.
The discrepancy is partially attributed to the fact that bookmakers will return much of the money placed as bets to the bettors in the form of winnings, while an additional 10percent will be paid in taxes, Forrester said.
TV Trouble
Moreover, Forrester predicts that only 15 percent of sports sites' revenueswill be generated from betting in the next few years.
The firm predicts that competing technologies, suchas interactive television, will capture a greater share of the gambling market from the Internet channel.
Content Plays Well
Forrester said it will be critical forInternet sports firms to capture unique content rights, build a strong usercommunity, and leverage both online and offline promotional capabilities, in order to survive the shakeout.
"The key to driving a significant, monetizable user base is to offer userscontent that they cannot get elsewhere," advised the study.
For generic sports sites, it will be imperative to acquire content,sign up notable personalities and enhance coverage with unique new and archive multimedia to survive. For those sites unable to afford exclusiveonline rights, user-generated content that spurs audience loyalty is a viable solution for supplying unique material, Forrester said.
Boosting Advertising
Currently, the UK sports market consists of an "abundance" of both multi- and single-sport coverage providers, with audiences spread thinly across thespectrum, the research firm said. The most popular UK sports sites are those belonging to football clubs.
In fact, traditional publishers are already pulling back and even the majorpure play companies are suffering, said Forrester.
To maximize revenue and traffic, the study said that the sites need to re-evaluatetheir promotional offerings. Advertising also will remain the primary revenue stream for sports sites, accounting for 58 percent of income by 2006.
"To ensure that they attract advertisers, winning sports sites must offeronline replication and offline sponsorship models, develop performance-basedpricing and exploit cross-promotional capability," said Ulph.