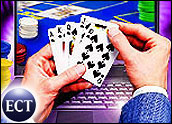 The online casino industry is set to explode, but legal restrictions could keep U.S. firms out of the fray, according to a report issued Thursday by investment and securities firm Bear Stearns.
The report, "E-Gaming Revisited — At Odds With The World," found that the number of Internet gambling Web sites has doubled in the past year: from 600 to 700 sites operating last year to 1,200 to 1,400 currently.
"There is a great deal of potential and it is evidenced by the number of sites that are sprouting up," said Marc Falcone, Bear Stearns gaming analyst.
The online casinos offer lottery-style games, horseracing, sports wagering and virtual casino games. Bear Stearns estimates that online gambling revenue could grow from US$1.5 billion in 2000 to $5 billion in 2003.
Falcone said the gambling Web sites are "getting pretty sophisticated. They have high-tech graphics, live video and they allow you to play some of the same games you would find on the casino floor."
Legal Pitfalls
While no federal law exists specifically prohibiting Internet gaming, law enforcement officials have successfully taken the position that Net gambling is illegal in the U.S. under the 1961 Interstate Wire Act, which prohibits wagers sent by wire.
Last year, a federal court sentenced Jay Cohen, co-owner of Antigua-based World Sports Exchange, to 21 months in prison followed by two years of supervised release, in addition to a $5,000 fine, for Internet-based gambling offenses.
At the time, the prosecuting attorney, Mary Jo White, said that "people who operate businesses from foreign shores that take sports bets from Americans should understand that they cannot escape the consequences of their actions by locating their sportsbooks outside the United States."
White added: "An Internet communication is no different [from] a telephone call for purposes of liability under the Wire Wager Act."
Laws Stalled
Lawmakers have tried — and failed — to pass several proposed laws that would have specifically outlawed Internet gambling in the U.S. The bills failed for a variety of reasons, including the fact that one of the bills carved out exceptions for pari-mutuel gambling (pools in which participants bet on the top three finishers and share the winnings, as in horseracing) and lotteries.
Another objection made to the proposed laws is that they unrealistically hold Internet service providers (ISPs) responsible for blocking access to gambling sites if so ordered by the federal government.
"I get the impression most legislators realize how difficult it would be to ban online gambling from every computer in the United States. I think they would be much more successful at shaping a regulatory landscape," Falcone said.
Offshore Boom
The murky legal waters in the U.S. have led to a boom in offshore gaming as operators have sought out gambling-friendly havens such as Antigua, Bermuda, Costa Rica, the United Kingdom and South Africa.
However, the realization that Internet gaming can be a profitable business has, according to Bear Stearns, created intense competition in the industry that has "led to somewhat of a 'shakeout' among e-gaming countries, causing those with minimal resources and less capital to all of a sudden vanish into thin air."
"In our opinion, the days when a few college buddies with a laptop and $150,000 could just move down to the Caribbean and set up shop have ended," the report said.
Free For All
Despite being unable to legally offer online gambling, many U.S. companies have established play-for-fun sites that let Web visitors play popular games such as roulette, slot machines and poker — without paying or betting.
Although the free gambling sites are not generating revenue for the casinos, they do serve as advertising vehicles and takeoff points for marketing initiatives. The goal of many of the sites is to introduce potential customers to the brand name and help the casinos build a "larger, loyal customer base."
Some online gambling sites boost their income by allowing customers to book hotel rooms and order show tickets online. According to Falcone, the sites that are finding marketing and advertising revenue streams are making the "smart move."
"They are building a large customer base that they should easily be able to tap if the regulatory environment becomes more accommodating," Falcone said.
More Women Playing
Citing data from audience measurement firm Nielsen/NetRatings, which analyzed visitors to four online gaming and sweepstakes sites, Bear Stearns said that the majority of e-gamers are women. For instance, 62.7 percent of visitors to Caribbeangold.com, and 55.5 percent of visitors to Lasseters.com.au, were women.
By comparison, men and women visit brick-and-mortar casinos in almost equal numbers.
Back in the U.S.A.
Despite the legal restrictions against U.S.-based Internet gambling, Bear Stearns found that nearly 50 percent of major Internet gambling Web site revenues come from the U.S.
Within the U.S., Southerners are more likely to log on, with 38.4 percent of online gaming visits coming from the southern region of the country.
Online gamblers are also likely to be retired, with 25.3 percent of traffic to Internet gambling sites coming from those over 55.