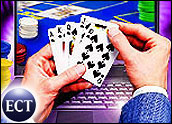 Threatened with the loss of its coveted relationship with the National Football League (NFL), Internet powerhouse Yahoo! said Thursday that it will remove gambling advertisements from its football Web pages.
"All professional sports leagues are sensitive to being associated with wagering," Jupiter Media Metrix analyst Christopher Todd told the E-Commerce Times.
Todd said the sensitivity dates back to baseball's Black Sox scandal in 1919, when several Chicago White Sox players were alleged to have taken bribes from gamblers to throw the World Series.
Eighty-one Octobers later, the NFL and Yahoo! signed a contract calling for Yahoo! to present live Webcasts of NFL games this season, to host NFL-provided content, and to sell NFL merchandise. The terms of the agreement called for Yahoo! and the NFL to share revenue from ads on the NFL-related pages.
New Development
At the time the agreement was made, Yahoo! was not running any of the debated advertisements, which include ads for online casinos and sites offering tips for sports bettors. The NFL reportedly found out about the ads last Friday and complained to Yahoo!.
"If we have a business partner who is basically ambushing us with gambling ads, they are not going to be a business partner for very long," NFL attorney David Proper said in published reports.
Some industry insiders believe it was a risky move for Yahoo! to place gambling related ads on NFL-sponsored pages because the NFL, along with other professional and college sports leagues, sees wagering as a conflict of interest.
Risky Business
Todd called Yahoo's decision to run the ads a "boneheaded move" and said that "someone at Yahoo! dropped the ball." He added that placing gambling ads at a site sponsored by a professional sports league is "something you just don't do" and likened it to placing ads for pornography sites at a religious channel.
The blunder comes at a particularly bad time for Santa Clara, California-based Yahoo! because it is competing with six other companies for the right to run the NFL's official site, NFL.com. The league's three-year contract with ESPN.com runs out in April.
However, Todd does not believe the mistake will seriously affect Yahoo's chances, saying that "it was a minor misstep and they acted promptly to correct it."
An NFL spokesperson reportedly said that the incident will not affect Yahoo's chances to win more business with the league.
Necessary Revenue
Yahoo! does not plan to pull gambling-related ads completely from its site, but will move them to pages that do not contain NFL-generated content or the league's logo.
Like other content-based Web sites, Yahoo! relies heavily on advertising revenue to stay afloat. In 1999, advertising accounted for 90 percent of the company's US$588.6 million in sales.
Some analysts have said that gambling ads could be netting Yahoo! as much as $48 million in annual sales. Todd believes that figure may be high but said it was not entirely out of the ballpark.
In mid-day trading Friday, Yahoo shares were up $1.187 to $33.187, just above the company's 52-week low of $30.625. Yahoo's 52-week high is $250.06.