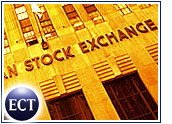 Yahoo! (Nasdaq: YHOO) slid in earlytrading Monday as reports said two more securities firms issued cautionarycomments on the stock.
Yahoo! was down 2 3/8 at 32 9/16 in the first few minutes of trading.Reports said Robertson Stephens lowered the stock's long-term rating toattractive from buy, and cut fourth-quarter and 2002 revenue and earningsestimates. The firm reportedly cited a weak online advertising market and a"lack of visibility" into other sources of revenue at the company.
At Deutsche Banc Alex. Brown, analyst Andrea Williams Rice reportedlysaid the stock could trade below 20 in the first half of next year.
A number of analysts have cut ratings on Yahoo! in recent weeks, citing aslowdown in the market for online advertising. On Thursday, the stock fell to a52-week low after W.R. Hambrecht lowered its rating to neutral from buy.
Earlier in the week, a research report fromMerrill Lynch analyst Henry Blodget sent the stock plunging. Blodgetsaid he cut his first-quarter revenue estimate for Yahoo! to US$290 millionfrom $324 million, and lowered his second-quarter estimate to $330 millionfrom $338 million, citing a "lousy" advertising climate.
SG Cowen Securities, Dain Rauscher Wessels and Janney Montgomery Scott havealso in recent weeks cut ratings on Yahoo!, which is said to be heavilydependent on advertising.
Online advertising companies are also feeling the pain. DoubleClick, Inc. and24/7 Media are among those announcing layoffs and cost cuts in recent weeksas they deal with a decline in client spending.