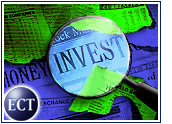 Net advertising firm DoubleClick, Inc. (Nasdaq: DCLK) fell 1 7/8 to 13 1/16 Friday, and Web content and portal giant Yahoo! dropped 11/16 to 38 15/16, following reports of analyst concerns about the online advertising market.
S.G. Cowen reportedly lowered revenue estimates for the companies to reflecta decline in Internet ad spending. Prudential Securities was said to havelowered its price target for Yahoo! for the same reason, while at the sametime repeating a strong buy recommendation.
Shares of online advertisers like DoubleClick, as well as other Internetbusinesses like Yahoo! that depend on online ads for revenue, havefallen on hard times. Last January, DoubleClick was trading as high as 135 1/4.
For its part, Yahoo! recently hit an all-time low, after trading above 200 earlier thisyear.
In October, when DoubleClick reported its first pro forma profit, companyshares nevertheless fell to a 52-week low because of nervousness about thefourth quarter.
Revenue at DoubleClick rose 79 percent from a year earlier to US$135.2 million, while income beforeitems totaled $3.7 million, or 3 cents per fully diluted share, comparedwith a loss of $3.8 million, or 3 cents, in last year's third quarter.
Yahoo! also fell on the day its third-quarter results were announced. Thereport showed the number of customers fell from the second quarter, at a time when cash-strapped dot-coms were closing up shop or cutting back on advertising spending.
Yet some industry observers are optimistic. A recent study from the Internet AdvertisingBureau and PricewaterhouseCoopers found that the Internet advertisingindustry saw $2.1 billion in revenue in the second quarter, with first-halfsales approaching the total for all of last year.