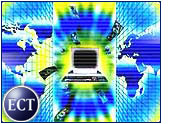 Although sites that offer Internet services like free e-mailare growing fast, search engines, portals and online communities account for the bulk of allonline traffic in the United States, according to a report released Monday by Nielsen//NetRatings.
One out of every three Americans visits a portal site like America Online (NYSE: AOL) or Yahoo! (Nasdaq: YHOO) each day,giving the portal category an audience reach of more than 92 percent, thereport said.
"Search engines, portals and community sites have establishedthemselves as a mandatory part of every surfer's online habits," NetRatings vice president of e-commerce SeanKaldor said.
The findings support those of Jupiter Media Metrix, whichissued a report earlier this month saying that four sites dominate the Web. Jupiter found that AOL, Yahoo!, Microsoft (Nasdaq: MSFT) and Napster together account for more than half the time Americans spend online.
E-Commerce on Edge
The Nielsen//NetRatings report found that e-commerce sites were the only category to register a decline in traffic from January to May.
E-commerce sites saw 42.1 million visitors in May, reaching 40.8 percent ofthe Internet audience — a decline of 3.4 percent since the start of the year, according to the audience measurement firm.
Not only do portals — the No. 1 category on the Web — capture the most attention from Web surfers, they are increasing stepping into the e-commerce realm, analysts say. Portals are evolving into e-commerce brokers, according to a study released in April by Forrester Research.
Additionally, a Yankee Group report earlier this year said that sales atportal sites grew faster than standalone e-tail sites during the 2000 holiday season.
At Your Service
The second-busiest group of Web sites in May after portal sites were telecommunications and Internet service sites, attracting 72 million visitors, or close to 70 percent of the Webpopulation, Nielsen//NetRatings said.
According to the report, telecom and Internet services sites attracted 4.7 percent more users in May than in January, compared with a 2.4 percentgrowth rate for search engines and portals.
"Telecommunications and Internet services sites continue to play asignificant role in daily Web usage," Kaldor said. "Key to their growth hasbeen the overwhelming success of free e-mail services."
That means sites like MSN and Yahoo!, which "have aligned themselves in bothof these top two categories," are "ideally positioned to dominate surfermind-share and wallet-share," said Kaldor.
That's Entertainment
Entertainment sites also saw robust traffic in May, attracting 69million users, or 67 percent of all Web surfers, Nielsen//NetRatings said.
The entertainment category is the thirdmost visited sector on the Web, the audience measurement firm said, even with a decline in traffic to Napster. The controversialmusic site has seen its visits drop after it started blocking transfers of copyrighted music in order to comply with a court injunction.
Computer and consumer-electronics sites were the fourth most popularcategory on the Web, garnering 48.37 million visitors, or 46.9 percent of the Internetaudience, according to Nielsen//NetRatings.
AOL on Top
AOL Time Warner sites comprised the most visited single group of sites on the Web in May, reaching an audienceof 78.66 million, according to the Nielsen//NetRatings report.
Yahoo! was second, with 69.98 million users, followed by MSN at third, with 61.8 million, andMSN parent Microsoft at fourth, with 38.62 million, the report said.
Lycos, Excite@Home, About.com, Walt Disney Internet Group, Amazon and eBayrounded out the top 10 sites in May.