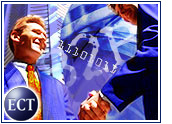 The American Arbitration Association (AAA), a nonprofit conflict management and dispute resolution provider, announced Thursday that it has launched a new portal aimed at minimizing business-to-business (B2B) e-commerce disagreements.
The AAA said it developed the Dispute Risk Management (DRM) portal to increase fairness in the business community and strengthen B2B e-commerce. The new site follows the AAA's recent announcement of a B2B protocol for its e-commerce group.
"AAA is reacting to the current e-commerce climate," AAA vice president of e-commerce Debbie Miller-Moore told the E-Commerce Times. "Even though the market appears to be slowing, more and more companies are going online. The need to resolve online disputes is growing."
More To Come
Miller-Moore added: "This is the first in a series of services the AAA will offer to help companies assess, prevent, contain and resolve online B2B disputes. We plan further enhancements and additions to these services in upcoming quarters."
According to a recent study by the Gartner Group, US$1.2 trillion was spent in B2B e-commerce last year. Analysts predict the industry is still growing and project a $4.8 trillion market by 2004, making business disputes inevitable, the AAA said.
"With more businesses moving their B2B value/supply chains online, companies need to ensure that they have a solid mechanism for dispute risk management," AAA president and chief executive officer William K. Slate II said. "The speed and integrity of continuous e-supply chains requires new modes of prevention and containment."
Providing Prevention
The AAA said that its "most important" function is to offer online claims and case management for B2B disputes. The site features several tools for online resolution, such as an online process for submission of B2B disputes and for management of B2B cases.
The case management tools and services can resolve disputes through on-call mediation or online "documents-only" arbitration, the AAA said.
At the same time, the AAA said that it hopes the site will help prevent conflicts before they occur. The site allows users to share documents, search directories, and access the AAA's Alternative Dispute Resolution (ADR) library.
The site also provides information on current events and other news related to B2B dispute risk management, as well as education advisory services.
The AAA charges businesses for using its services, in contrast to the courts, which provide resolution services using primarily taxpayer dollars. For example, the AAA filing fee for a claim in which $300,000 is at stake is $4,250, plus a "case-service fee" of $1,250. Those amounts do not include fees to be paid to attorneys or to the AAA arbitrator.
New Leadership
The AAA also announced Thursday that it has named Doug Crisman chief operating officer for its e-commerce group. Crisman has over 30 years of business technology experience, the AAA said, most recently serving as president of his own e-commerce investment and consulting firm.
Crisman is the former president and CEO of Cognetics Corporation, and also held various executive roles at Merant and Tandem Computers (now part of Compaq).
The AAA, founded in 1926, said that users filed nearly 200,000 cases with the group in 2000. Individuals can join the AAA by paying a contributing fee of $240 per year or a sponsoring fee of $500 a year.