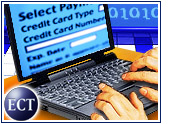 Internet trend-watcher Jupiter Media Metrix on Monday lowered its short-term outlook for the e-commerce sector, saying such factors as lack of capital and weak consumer spending are continuing to hurt the industry.
At the same time, the report emphasized the long-term staying power of the Internet.
"While many Internet ventures today are mired in financial difficulty, it's importantfor all players not to be overwhelmed by the negative hype that isdistorting the long-term picture," said Jupiter senior analyst David Card.
Jupiter said the long-term future for e-commerce remains bright, with continued consumer demand for new services and a growing online population helping to drive growth.
As a result of the current technology downturn, Jupiter cut its target for online retail commerce to $104 billion in 2005, down 12 percent from its earlier projection. The cut is largely due to "the online grocery meltdown," the firm said.
Food for Thought
Online grocers have for the most part closed up shop or sold out to larger, brick-and-mortar partners. In the last month, Webvan ceased operations and filed for bankruptcy, while HomeRuns.com said it would end service in its two markets, Boston, Massachusetts and Washington, D.C.
Jupiter said that for e-commerce overall, short-term setbacks "have pushed out original 2005 revenue targets to 2006 or 2007 in some cases."
Online travel is another area that is seeing a slowdown, said Jupiter, which cutits 2005 revenue target for the sector to $25 billion from an originallyforecast $33 billion because of a "slowdown in corporate spending."
Ads, B2B Suffer Also
Jupiter said that while the key drivers of e-commerce "remain powerful" for the long haul, "current market constraints" are also hurting online advertising revenue, business-to-business (B2B) trading and infrastructurespending, among other sectors of the Internet economy.
In a report last month, Jupiter cautioned online advertisers against overuse of "pop-under" ads, which appear in a new window at the bottom of the computer screen, saying the ads are ineffective at turning viewers into buyers.
Ready to Shop
"There are many hurdles and setbacks to be overcome in the months ahead, butmost of these should prove to be short-term setbacks, the magnitude of whichwill be offset by continued long-term growth factors," Card said.
Jupiter said Internet traffic continues to grow, rising by more than 13 percent throughout the first half of this year. The number of potential shoppers entering "secure" portions of retail Web sites — the areas reserved for entering credit-card data and the like — is also increasing, rising to 45 percent in January 2001 from less than 25 percent in January 2000, Jupiter said.