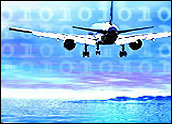 Several months ago, industry observers were writing the epitaph for name-your-own-price e-tailer Priceline.com.
Here we are less than a year later, and Pricelinejust turned a profit. Almost unheard of in the current new economy, Priceline actually made some real money.
Okay, it only works out to about a penny per share, but it is as symbolic of the promise of electronic commerce as it is encouraging to those who once saw Priceline as nothing more than a wild experiment.
With its cutting-edge new ad campaign and new high-profile spokesperson, actress Sarah Jessica Parker, Priceline is flying high (*correction). Well, not high, but higher.
Power Of Innovation
Can the company sustain itself? Was the penny a share a one-time shot, or is it truly set for takeoff? Only time will tell, but those who watch these things on a daily basis are optimistic.
None other than Goldman Sachs analyst Anthony Noto has raised his overall 2001 estimate for Priceline's earnings performance to 11 cents per share, from his previous estimate of 4 cents. When Noto speaks, the industry tends to listen. I'm listening, if for no other reason than the sheer novelty of Priceline's survival.
The great promise of e-commerce was supposed to be the paradigm shift it would offer the commercial landscape. While others were busy trying to duplicate brick-and-mortar sales processes, Priceline took what can only be described as a giant leap.
It would either work or it would flop. Most of us probably expected it ultimately to flop.
What Works
What counts here is the coupling of Priceline's fully original business model with the travel industry, the one business that has taken to e-commerce like no other. We Americans do not seem to want to buy eggs and milk, cars or houses online, but we sure do like to electronically book reservations to the Caribbean and hotel suites in New York.
Many of us will keep a more watchful, vigilant eye on Priceline now. That's progress.
But are investors likely to sink substantial investment dollars into the company based on its latest upswing? Decidedly not. Too soon, if you ask me. One quarter does not a long-term growth company make.
Horror Stories
The Q2 report will also not encourage me to rush to Priceline.com to purchase my next airline ticket.
The nightmare stories continue to come. Did you hear the one about the woman who booked her reservations with Priceline, had her credit card charged, but never received the tickets? It gets worse. The airline had no record of her reservation. Priceline evidently claimed ignorance.
Then there was the guy who tried to cancel some reservations he had made just an hour earlier via Priceline. Not only could he not do that, he couldn't even find anybody from the company to speak to about his problem.
Others report having to travel unreasonable distances out of their way simply to save money.
Growing Pains
Bringing something new to the e-marketplace is often fraught with disaster. That certainly does not excuse Priceline.com, but something the company is doing must be working.
No one said launching something as monumental as Priceline would be trouble free. In fact, there will undoubtedly be glitches in the future, even if rare. I would chalk that up to growing pains.
The beauty of this company's existence is its ability to prove to the world that e-commerce does not have to be a mirror image of traditional commerce. E-commerce was never born to replace or duplicate brick-and-mortar businesses.
It was born to innovate. Nicely done, Priceline.
What do you think? Let's talk about it.

---
Note:
The opinions expressed by our columnists are their own and do not necessarily reflect the views of the E-Commerce Times or its management.
---
*Editor's Correction Note: In the original version of this article, we reported that spokesperson William Shatner had cut ties with the company. In fact, Shatner is still a spokesperson for Priceline and recently recorded a series of radio ads for the company.