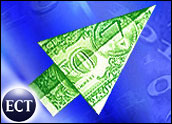 The latest quarterly report from Priceline.com (Nasdaq: PCLN) shows that the company has successfully transformed itself from an overextended, money-losing dot-com into an online travel company poised for success, analysts said.
Priceline shares soared in morning trading Wednesday, following news that the "name your price" e-tailer posted a pro forma profit in the second quarter ended June 30th. The stock rose US$1.37 to $10.24 in the first few minutes of trading.
"The turnaround seems to have been effective in righting the company for profitability," Michael Legg, who follows Priceline for Jefferies & Co., told the E-Commerce Times.
Turnaround to Growth
Legg, who has a hold rating on Priceline shares, said he would like to see more evidence that the company can sustain its growth.
"The turnaround has been put in place and completed, and management's done a very good job with that," he said. "We like what we saw in the quarter, but are a little concerned about growth year over year."
Added Legg: "We need to see them now go from a turnaround mode to a growth mode."
Raising Estimates
At Goldman Sachs, analyst Anthony Noto repeated a market outperform rating on Priceline and raised estimates for the rest of this year and for 2002.
"We think the company is positioned to continue to deliver consistent results," Noto wrote in a research note.
Priceline reported income before various items of US$117.5 million, or 5 cents per diluted share, beating analyst estimates by 4 cents. Revenue rose to $365 million from $352 million a year earlier.
Even after taking into account charges for stock compensation, investment losses and other expenses, Priceline eked out a penny-per-share profit. Noto noted that "very few Internet companies have achieved" profits under U.S. generally accepted accounting principles (GAAP).
Internet 'Poster Child'
The company, which over the past year has jettisoned unprofitable operations like grocery and gasoline sales to concentrate on its travel business, said it sold 1.4 million airline tickets during the quarter, up 34 percent from the first quarter. Sales of hotel reservations rose 57 percent, and rental-car bookings climbed 52 percent.
As the "poster child of (the) Internet turnaround," Priceline should receive "significant news coverage (free advertising), which should help fuel more demand," just as negative press drove the stock lower in late 2000 and early 2001, Noto wrote.
Noto said he now expects Priceline to earn 11 cents a share for 2001 as a whole, up from a previous estimate of 4 cents. Revenue will likely total $1.3 billion, he said, rather than the previously forecast $1.2 billion. In 2002, he is looking for earnings of 22 cents on revenue of $1.5 billion.
Demand for Online Travel
"While we still view Priceline as a platform e-commerce company longer term, an assessment of the investment opportunity based solely on travel given current conditions is appropriate," wrote Noto.
The company, he said, is third among online travel companies, behind Travelocity (Nasdaq: TVLY) and Expedia (Nasdaq: EXPE).
Expedia on Monday reported that revenue more than doubled in the quarter ended June 30th when compared with a year earlier. The company said a weak economy is driving travelers to the Internet in search of bargains.
Stock Rebound
While still well below its all-time high of $165 — reached in April 1999 — Priceline shares have been on a steady rise this year. Last December, the stock traded as low as $1.06 amid reports of a management shakeup, a Connecticut attorney general investigation and other woes.
Legg said investors should be cautious about buying the shares, given the uncertainty about future results.
Priceline said it expects to exceed third-quarter 2000 revenues of $341 million, with pro forma earnings of 5 to 7 cents per share. The company, however, did not provide a forecast for the fourth quarter or the year as a whole.
"It's still a risky stock," said Legg. "The visibility isn't there for the fourth quarter or next year."