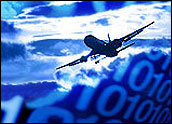 Online travel company Expedia.com (Nasdaq: EXPE) announced Monday that revenue for the fourth quarter ended June 30th more than doubled from the year-earlier quarter, saying that demand for the company's services rose as a weak economy led travelers to search the Internet for bargains.
The company also reported higher earnings before items and a significantly narrower net loss.
Expedia said all its business segments grew during the quarter, with package trips and lodging reservations showing especially strong growth.
In morning trading Tuesday, Expedia shares were up 26 cents to $48.40. The company hit its 52-week low of $7.75 on October 13th.
Surviving the Downturn
Sales remained strong despite a slowing economy, Expedia president and chief executive officer Richard Barton said.
"When business gets softer for our supplier partners, they turn to those distributors who can deliver the most customers in the most cost-effective manner," Barton said.
Expedia said it expects business to remain strong in the coming months, with income before non-cash items reaching $10 million to $12 million in the first quarter of fiscal 2002, ending in September 2001, and $11 million to $13 million in Q2 2002, ending in December.
By the Book
For Q4 2001, income before stock option expense and amortization of goodwill and intangibles totaled US$15 million, or 25 cents per share, Expedia said, compared to a loss of $13.1 million, or 30 cents, in the same period last year and above the 20 cents predicted by analysts.
The net loss narrowed to $4.4 million, or 9 cents per share, from $42.4 million, or 98 cents.
Expedia's gross travel bookings of $802 million were 78 percent above year-earlier levels, and revenue advanced 112 percent to $78 million. Seven percent of visitors to Expedia's site ended up as buyers, up from 4.1 percent in the year-earlier quarter and 5.7 percent in the third quarter.
New Shareholder
Earlier in July, USA Networks entered a deal to purchase as many as 37.5 million Expedia shares, including more than 33 million shares and warrants held by former majority backer Microsoft. The deal makes USA Networks the new majority shareholder of the company.
Microsoft will retain a 3 to 5 percent stake in Expedia, and will continueto use the company as its online travel channel through June 2005.
"Our long relationship with Microsoft will continue to thrive through our extendedagreement with MSN," said Erik Blachford, Expedia's senior vice president of marketing.