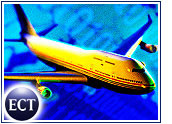 Succeeding in any competitive business requires a killer instinct. And it's especially true in an industry as competitive, fast-growing and increasingly crowded as online travel.
No one can be bullied and hope to be around in the long run. So Southwest Airlines is right to stand up for what it sees as its own interests in its ongoing feud with Orbitz, the new bully on the block.
But while these big boys duke it out, the customers are being trampled underfoot.
That is often the case. It's almost as if a shot of combat adrenaline makes companies forget the reason why they succeed or fail. In the heat of battle, they forget all about serving customers to boost the bottom line. Instead, they focus on winning.
Southwest Fashion
Last week, Southwest escalated its long-standing tiff with Orbitz by blocking the Airline Tariff Publishing Co. from picking up Southwest fares. Southwest has long complained that Orbitz isn't listing all of its fares, thereby distorting the true picture of what it costs to fly on the airline.
At first glance, it seems that Southwest Airlines is acting like the brave kid who becomes the first to stand up to the neighborhood bully. The move is a gutsy one, especially when you consider how many millions of Web surfers have already found their way to Orbitz in the month or so since it went live.
Who Gets Hurt?
But is Southwest really doing what's best for its customers? That's a harder argument to make.
An Orbitz spokesperson pointed out to me that Southwest already required any customers seeking to buy Southwest tickets to be directed off of Orbitz and to the airline's own site. So Southwest is giving up a stream of traffic from Orbitz — and Orbitz said it was referring those customers at no charge to boot.
We are not talking about run-of-the-mill, just-curious traffic, mind you, but already-interested-in-buying traffic, the kind that can be a slam dunk to convert into paying customers.
Of course, the Southwest decision to pull its fares went well beyond leaving out Orbitz, to include exits from the other online travel sites and from working with offline agents.
What Is Up?
So what is Southwest up to? Well, it has not said much about its move.
But clearly, the airline wants people to find their way to the Southwest Web site and do their buying there. That's a questionable strategy and from media reports, it sounds like it already has backfired a bit, as some travel agents are reluctantto do the added legwork required to get Southwest's fares.
Think of it: five hundred or so airline fares in one place and then, out on its own, Southwest.
Crash Landing
Now Southwest has low fares. That's a fact. And they've been aggressively advertising their own Web site.
But one of the main reasons travelers use the Web is the ease with which they can compare ticket prices on similar flights from different airlines. The ability to do all that comparison shopping is the core of the marketing campaign of sites like Travelocity and Expedia.
The strategy might work. Southwest is already an up-and-comer in the online travel rankings and maybe it can go it alone.
But consumers want choice. And if their choices are being limited because of a spat between two companies, somebody has forgotten what's important.
What do you think? Let's talk about it.

---
Note:
The opinions expressed by our columnists are their own and do not necessarily reflect the views of the E-Commerce Times or its management.
---