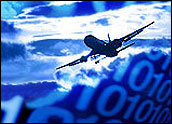 Orbitz, the online travel company launched by a group of airlines earlier this week, said late Wednesday it plans to double its customer-service staff over the next three weeks, to more than 200, in order to deal with a "deluge" of business.
The Chicago-based company, controlled by five airlines that account for a combined 85 percent of the U.S. airline market, said it is selling more than 10,000 airline tickets each day, topping expectations. Gross bookings totaled more than US$1 million on Monday, the day the site went live, and topped $3.3 million the following day, Orbitz said.
As a result of the surge in demand, which included "many customers new to Internet booking," calls to the company's customer service center have also been running at a higher-than-expected rate, Orbitz said.
Regrets, They Have a Few
"We sincerely regret that some of our new customers have been impacted when they called with questions," said Orbitz chief marketing officer Roland Jacobs.
Overall, said Jacobs, "the site is performing well, and well within capacity limitations."
On launch day Monday, Orbitz said it had 175,000 registered users and had sold $3.5 million in tickets before it even went live. The site, which competes with Travelocity (Nasdaq: TVLY) and Expedia (Nasdaq: EXPE), also offers hotel and rental-car reservations and cruise packages.
Service To Be Key
Studies show Orbitz is wise to move fast on customer service, which analysts say will be key to the success of online travel sites as the market grows. Jupiter Media Metrix, in an April study, said service concerns would be vital to the sites' attracting and keeping customers.
Travelocity, for its part, responded to the Orbitz launch with an advertising campaign of its own. The company has also been beefing up customer service, moving the operation in-house instead of outsourcing it.
Monopolizing the Market?
Orbitz had to undergo a U.S. government review before being allowed to go live. Competitors in the lucrative online travel market have raised concerns that the site will monopolize the sector.
Orbitz, controlled by American, Delta, Continental, Northwest and United, is also being sued by Southwest, which says the site provided "false and misleading" information about Southwest's flight schedules, rates and fares, and that it is using Southwest's proprietary scheduling information without permission.
One reason for Orbitz' strong debut could be a promotion in which the site is giving away, once every hour, a round-trip air ticket to anywhere in the 48 contiguous U.S. states. The promotion, which lasts through July 15th, also includes a once-a-week drawing for an all-expenses-paid trip for two to any international destination.