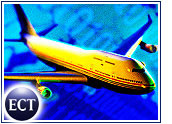 More than a year after first being announced, controversial travel mega-site Orbitz officially launched Monday.
Chicago-based Orbitz said that at launch, it already had 175,000 registered users and had sold US$3.5 million in tickets. In addition to airfare, Orbitz offers consumers hotel and rental car reservations and cruise packages.
Announced late in 1999 and originally scheduled to launch in September 2000, Orbitz is controlled by a combination of five of the largest airlines, which together share 85 percent of the total U.S. air market.
On the day of Orbitz' launch, Orbitz president and chief executive officer Jeffrey G. Katz pointed to two independent reports, one conducted by Arthur Andersen and another by Horizon Research, to bolster Orbitz' claim that it is giving consumers what they want.
The Arthur Andersen study of available fares within the top 100 domestic routes found that Orbitz meets or beats low fares offered on its largest competitors, Travelocity (Nasdaq: TVLY) and Expedia (Nasdaq: EXPE), more than 80 percent of the time.
In a separate survey of 500 travel Web site users conducted in mid-May, Horizon found that consumers who shop online for travel preferred Orbitz 3 to 1 over Travelocity and Expedia.
Awash in Controversy
For months, however, Orbitz' arrival has been awaited with a mixture of fear and anger by competing interests concerned that the newcomer will monopolize the online travel sector.
In March, Massachusetts Institute of Technology (MIT) economics professor Jerry Hausman released a report, sponsored by the Interactive Travel Services Association (ITSA), denouncing Orbitz and predictingthat the mega-travel Web site would become a "market power ringmaster" that will force U.S. consumers to pay $183 million more annually for airfare.
Hausman said in his report that "the likely resultant monopoly power over Internet ticket distribution will cause significant consumer harm by eliminating or harming the sources of the most important price discipline and innovation over the last few years — low-fare carriers and multiple-airline independent Web sites."
In February, the American Society of Travel Agents (ATSA) filed a complaint with the U.S. Department of Justice, stating that the new online travel company would result in unfair competition to online and offline travel firms.
DOT Clearance
Additionally, 20 U.S. states filed a letter with the U.S. Department of Transportation (DOT) in January voicing their concerns that Orbitz would threaten competition in the travel sector. However, the DOT said in April that "it did not have evidence that would justify stopping the company from beginning operations."
Orbitz is also involved in litigation with Southwest Airlines (NYSE: LUV). Last month, Southwest sued the travel mega-site for providing "false and misleading" information to its customers regarding Southwest flight schedules, rates and fares.
Southwest also alleged that Orbitz is using Southwest's proprietary scheduling information without Southwest's permission and that Orbitz is guilty of unfair competition.
Flying Hype
To celebrate its launch, Orbitz is "Giving Away Planet Earth" in a mega-promotion. Every hour of every day through July 15th, Orbitz is giving away one round-trip airfare to anywhere in the contiguous 48 states. Additionally, each week the site is giving away an all expenses-paid trip for two to any international destination.
Meeting promotion with promotion, in anticipation of Orbitz' launch, Travelocity last week announced a new TV advertising campaign touting the company as "more than just an online travel site."
Jupiter Media Metrix has predicted that the online travel sector will grow from $18 billion in 2000 to $63 billion a year by 2006.