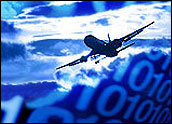 Online travel company Travelocity (Nasdaq: TVLY) on Friday announced an advertising campaign touting the company as "more than just an online travel site."
The campaign comes as Orbitz, a travel site backed by five major airlines, prepares to go live later this month. Orbitz, with a reported US$100 million investment from the airlines, could pose a formidable challenge to Travelocity and its peers, analysts say.
Travelocity's ads — two 30-second television spots set to begin airing Monday — are covered by the company's estimated $50 million annual advertising budget. Travelocity vice president of consumermarketing Michael Stacy told the E-Commerce Times that the cost was "in line with other campaigns" Travelocity has done.
One ad will feature a couple bicycling a volcano on Maui, Travelocity said, while the other will show a cultural tribal ceremony in Vancouver, British Columbia.
E-Travel Profits
Travel has proved to be one of the few lucrative e-commerce sectors. A March report from Nielsen//NetRatings found that online travel sites took in $1.2 billion in January, accounting for more than a third of the month's total online transactions. Travelocity was No. 1 among online travel sites, according to the report.
In April, Travelocity and its online travel rival, Microsoft-backed Expedia (Nasdaq: EXPE), both reported operating profits for the fiscal quarter ended in March.
Additionally, name-your-price e-tailer Priceline (Nasdaq: PCLN) has been shedding operations like grocery and gasoline services, choosing instead to focus on travel as it aims to reach profits.
Anticipating Orbitz
All this shows why the major airlines — American, Continental, Delta, Northwest and United — are trying to get in on the action via Orbitz, which had to clear a U.S. government review before readying its site for launch.
Stacy said that Travelocity "is a much moremature product" than Orbitz.
"We've learned from the mistakes we've made inthe beginning," Stacy said. "Orbitz still has those mistakes to make."
Focus on Service
As the online travel market grows, Orbitz, Travelocity and the others will need to compete for customers on service as well as price. An April 23rd study from Jupiter Media Metrix cautioned online travel service providers that customer service and "reassurance" about privacy, security and fees would be key to attracting and keeping customers.
Travelocity is boosting its focus on service, last month opening its third customer service center, in Clintwood, Virginia. The company, headquartered in Fort Worth, Texas, decided last year to handle its customer relations in-house, a move that Travelocity says has resulted in fewer complaints and increased productivity.
Stacy also said that Travelocity offers its service reps the samebenefits other employees get.
"These are the people who are interfacing withthe customers on a day-to-day basis, and we think that's a great motivationfor them," Stacy said.