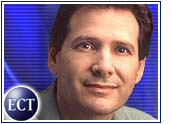 Following in the paths of rivals Travelocity (Nasdaq: TLVY) and Expedia (Nasdaq: EXPE), another online travel leader has beaten the street.
Priceline (Nasdaq: PCLN) announced Tuesday a pro forma net loss for the first quarter 2001 of US$6.2million, or 3 cents per share, beating analyst estimates of a loss of5 to 7 cents per share.
Priceline also said that it expects to report itsfirst operating profit in Q2 2001.
The first-quarter report by Priceline added to the mounting evidence thatonline travel is one of the few thriving business-to-consumer e-commerce sectors. Priceline's gross profits rose 23 percent compared to the fourth quarter of 2000, to $43.1million.
"While we are still in a turnaround mode, we are encouraged by the fact thatour key customer and financial metrics grew stronger as the first quarter wenton," said Priceline.com president and chief executive Daniel H. Schulman.
Turnaround Time
Schulman said that Priceline's turnaround was led by the company's focus on itscore travel business, as well as the strengthening of Priceline's brand,product offerings and customer service.
"The sum of these actions have worked — our top-line momentum has beensubstantially restored," Schulman said.
Direct Marketing Pays
Priceline chief financial officer Bob Mylod attributed much of the company's first quarter success to a marketing strategy that focused on mining its existing database ofcustomers via direct marketing in order to reduce advertising costs.
As a result, Priceline saw gains to its gross margin, which rose from 15.4 percent to 16 percent, the company said.
"Our dynamic pricing platform enables us to earn margins substantially inexcess of our online travel competitors," Mylod said.
Shares Gain
Boosted by growing confidence — including a pre-announcement upgrade on the stock from Goldman Sachs — shares ofPriceline rose over 35 percent by market close Tuesday, to $6.59. In after-hours trading, the stock had jumped to $7.39 — representing a 52.4 percent increase over Monday's close.
The last time shares of Priceline sold above $7 was in October.
Goldman Sachs analyst Anthony Noto said in a research report that Priceline is "still in a turnaround phase, but the progress made to datepositions the company to better control its destiny, with Q1 potentiallybeing its last unprofitable quarter."
Two of Priceline's rivals, Expedia and Travelocity, also saw significant gains in themarket Tuesday, with Expedia posting its first-ever profitable quarter morethan a year ahead of schedule. As of the close of trading on Tuesday, Expedia was up $4.11, or 15.8 percent, at $30.12 and Travelocity was up $4.05, or 13.5 percent, at $34.
In April, Travelocity also announced its first-ever profitable quarter.
Hedging Bets
Schulman said there are both pros and cons for Priceline during this periodof overall economic downturn.
"It's a con in that if airlines need to go and do fare sales, that canreduce our lower average revenues per ticket sold," Schulman said. "On the pro side, [thedownturn] is hurting business travel more than the leisure segment, andwe're 100 percent focused on leisure, as opposed to some of our online travelcompetitors."
"Also, in a downturn, our customers become much more costconscious, and the tradeoff to get the best deals becomes less onerous tothem."
The company said it expects to spend at least 20 million less in cashexpenditures in 2001 than in it did in 2000.
Staff Cuts
Priceline's restructuring efforts included the reduction of itsstaff from 538 employees in the fourth quarter of 2000 to 344 employees at the end of the first quarter 2001.
The company also received an investment of $50million from Hutchison Whampoa Limited and Cheung Kong (Holdings) andrestructured its investment from Delta Airlines to reduce its dividendrequirements.
Name-Your-Own-Positives
Priceline's recently completed quarter was marked by restructuring and controversy, butultimately by successful growth. Boosted by a new graphics interface andreduced customer service contacts, Priceline said that it added 891,490 new customersduring the first quarter and generated repeat business of 58 percent.
In March, Priceline began offering last-minute deals on hotel accommodationsand airfare to appeal to spur-of-the-moment leisure travelers. Priceline nowlets travelers book airline tickets as late as 11 p.m. EST for domestictravel the next day, a hotel room as late as 6 p.m. EST for the samenight, and a rental car with as little as four hours notice.
However, Priceline's quarter was not without blemish. A group of investorsfiled a lawsuit against Priceline in March, alleging that the companyconspired to drive up the price of its shares after its initial publicoffering (IPO).
Also, in January, the Connecticut Attorney General suedPriceline's patent holding company, Walker Digital, for violating state laws requiring fair notice be given to employees before massive layoffs take place.