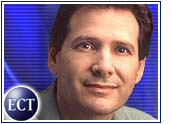 Despite posting a greater-than-expected fourth-quarter 2000 loss on Thursday, travel services e-tailer Priceline.com (Nasdaq: PCLN) secured investments totaling US$50 million from two Asian firms and predicted it would have a pro forma operating profit during the second quarter of 2001.
The "name-your-price" e-tailer said it lost $25 million, or 15 cents per share, before restructuring and other charges in the quarter ended December 31st. Analysts had been predicting a loss of 7 cents per share. In the year-earlier quarter, the company reported a loss of $10 million, or 6 cents per share.
"We continue to think investors should avoid Priceline's stock," Morningstar.com analyst David Kathman wrote in response to Priceline's report. "While we're encouraged by the moves Priceline has made to restore its reputation and get costs under control, we want to see more concrete results before we're confident of its ability to turn itself around financially."
Turnaround Ahead?
Saying that the growth potential of Priceline's core business was uncertain, Kathman concluded, "We think that Priceline can probably survive in some form, but only as a niche player in online travel rather than the e-tail behemoth it once wanted to be."
Priceline said it expects pro forma net loss per share in Q1 2001 of between 5 and 7 cents per share, on its way to a pro forma operating profit in the following quarter.
"Priceline.com has experienced a significant increase in revenue in the first six weeks of 2001, driven in part by seasonal factors, compared to levels toward the end of the fourth quarter," Priceline chairman Richard S. Braddock said. "We therefore believe that we will have sequential first-quarter revenue growth of approximately 15 percent to 20 percent and sequential second-quarter revenue growth of approximately 10 percent to 15 percent."
Help from Abroad
Priceline slogged through the final months of 2000 amid a string of poor financial performance ratings, cutbacks, executive departures, employee layoffs, lawsuits and government investigations.
Despite Priceline's struggles, the e-tailer also announced Thursday that a Hong Kong tycoon stepped forward to offer financial assistance to the beleaguered company. Two companies controlled by Li Ka-shing — Hutchison Whampoa Limited and Cheung Kong (Holdings) Limited (CKH) — invested a total of $50 million in Priceline.
The Asian companies said they had purchased approximately 24 million shares in Priceline at $2.10 per share. Additionally, the companies also agreed to purchase approximately 11.3 million shares of Priceline common stock from Priceline founder Jay Walker for a total of approximately $24 million.
Together the companies will hold a 17.54 percent stake in Norwalk, Connecticut-based Priceline and will gain a seat on the company's board of directors.
Comings and Goings
In addition to purchasing a large chunk of Priceline's U.S. operations, Hutchison also said it would buy $9.5 million worth of convertible notes in Hutchison-Priceline Limited, the companies' Asian venture. The purchase will increase Hutchinson's stake in HPL to 65 percent.
Hutchison and Cheung Kong also will receive the exclusive rights to negotiate with Priceline for a period of six months for the setup of a potential business in Japan.
Although Li may be bullish on Priceline, Microsoft co-founder Paul Allen is not. According to a Wednesday filing with the U.S. Securities and Exchange Commission (SEC), Allen's Vulcan Ventures sold its 6.2 percent share in the company — approximately 9.1 million shares.
The Bottom Line
Priceline's Q4 revenue totaled $228.2 million, an increase of 34.8 percent from the $169.2 million the company reported for the fourth quarter of a year earlier. Revenue for all of 2000 increased 156.1 percent, from $482.4 million in 1999 to $1.24 billion in 2000.
"The fourth quarter was difficult for Priceline.com," Priceline president and chief executive officer Daniel H. Schulman said. "In addition to being our seasonally weakest quarter, Priceline.com was adversely affected by the closing of WebHouse Club, negative news stories about customer satisfaction and the difficulties of other e-commerce businesses."
When one-time charges are included, Priceline's loss for the quarter was $105 million, or 62 cents per share. Charges included a $66.8 million charge on restructuring and a $8.6 million charge in connection with the reworking its deal with Delta Airlines.