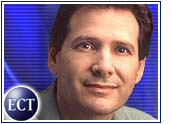 Beleaguered name-your-price e-tailer Priceline (Nasdaq: PCLN) got an early Christmas present Wednesday when the Connecticut Better Business Bureau (BBB) announced it had reinstated the company's membership.
The Connecticut BBB expelled Priceline in September after reportedly receiving more than 300 complaints about the e-tailer, ranging from misrepresentation of services to failure to make promised refunds.
"After a review of the ongoing enhancements Priceline.com is making to its Web site and customer service, we believe that Priceline.com has aligned its business in accordance with the tenets of the Better Business Bureau," said Connecticut BBB chairman Jacqueline Bucar.
"We are pleased to welcome them back into the organization as a member in good standing," Bucar said.
Customer complaints also sparked an investigation by Connecticut Attorney General Richard Blumenthal that is still ongoing.
Change Is Good
The Norwalk, Connecticut-based e-tailer said that much of the feedback it received from the BBB "mirrored what we were hearing from customers."
Changes already made, according to Priceline, include improved customer services and a site redesign that now shows consumers up front the total amount they will be paying for their ticket, including all taxes and fuel charges.
Priceline also announced that it had named Robert Abrams, a former New York State Attorney General, as a customer relations advisor, in order to "provide ongoing feedback on the company's products and practices."
"Priceline.com's reinstatement was the appropriate action and I commend both organizations," said Abrams. "As one of the nation's foremost consumer advocacy groups, the Better Business Bureau did its job to raise questions and Priceline.com addressed them in a responsible, timely manner."
Name Your Own Woes
The news that it had won back the BBB seal of approval is one of the few bright spots for Priceline recently. Earlier this week, the e-tailer canceled plans to bring its name-your-price services to Australia and New Zealand, a move that came less than two weeks after a planned expansion into Japan was scuttled.
The company has also abandoned plans to offer life insurance and cellular phones through its U.S. site.
Other woes to befall the once high-flying company include layoffs announced early in November, the departure of several high-profile executives, and several lawsuits by unhappy investors.
"Priceline may be close to exhausting the potential of its business model," Morningstar.com analyst David Kathman told the E-Commerce Times on Monday. "If it survives, it will be as a niche player in the travel industry. As far as I can see, that core business is in no immediate danger of going bankrupt, but I'm pretty skeptical of its ability to keep expanding much."
Spiraling Stock
Priceline's problems have not gone unnoticed by the market. The company's stock peaked earlier in the year at US$104 and has been falling almost continuously ever since.
Shares of Priceline were unchanged Thursday morning at $1.25.