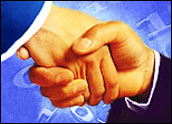 Priceline.com(Nasdaq: PCLN) has agreed to settle twopatent infringement lawsuits it filed against Internet travelcompetitor Expedia (Nasdaq:EXPE) and MicrosoftCorp., according to a joint statement released bythe companies Tuesday.
The lawsuits, which were filed in October 1999 in a U.S.district court in Connecticut, alleged that Expedia andits then-parent Microsoft had infringed on a U.S. patent held by Priceline covering its reverse auction model. At issue wereExpedia's "Price Matcher" services, which allowcustomers to place bids on unsold airline tickets andhotel rooms.
As part of the settlement, Expedia will be able to continue offering the services, but will pay royalties to Priceline. Both companies said that they do not expect the dealto have a "material impact" on their respectivebusinesses. Additional details about the agreement arebeing kept confidential.
"We believe this settlement is in the best interestsof our companies," said the companies in a briefstatement. "This settlement resolves all legal issuesbetween the parties and allows us to move forward."
Accusations Fly
Although many copyright and patent lawsuits areresolved behind closed doors, the suits filed by Priceline started on an aggressive note and were not expected to be settled.
Priceline not only accused Expedia of infringing on its patent, but also ofviolating state laws barring unfair tradepractices. Priceline also alleged that Microsofthad poached the disputed technology during a series ofconfidential merger meetings before Priceline launched its initial public offering.
However, according to the suits, the talks between the two firms went sour. During oneof those meetings, Priceline alleges, Microsoft's Bill Gates told Priceline founder Jay Walker that Gates did not acknowledge the validity of the patent claims and said thatPriceline would have to stand in line if it wanted to sue Microsoft and Expedia for infringement.
Within months, Priceline filed its suits, while Expediaintroduced its "Price Matcher" services withoutwaiting for the case against it to be resolved.
Strange Twist
The case took a strange twist after SanFrancisco, California-based firm Marketel International came forward to dispute the validity and ownership of Priceline's patent. In court documents, Marketel claimed that ithad developed the buyer-driven auction model before Priceline and had shared the idea with Walker yearspreviously under a nondisclosure agreement.
Based on the information, Expedia sought to have thepatent infringement suit brought by Priceline thrownout, arguing that the court must first determine therightful owner of the patent before allowing the caseto proceed.
Market Reacts
Shares of Priceline's battered stock rose on news ofthe settlement.
On Wednesday morning, it was up 13 cents,or 7.18 percent, to $1.94. Before the opening bell,shares had climbed 29 cents to hit $2.10.