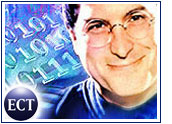 Apple Computer Inc. has inked a licensing agreement with e-tail giant Amazon.com that will allow the computer company to use Amazon's patented 1-Click technology, as well as the "1-Click" trademark.
Amazon's 1-Click technology securely stores billing and shipping information so that returning customers only have to click their mouse one time to purchase selected items, without reentering or reconfirming information. Under the license, all products sold at the Apple Store can now be purchased with the 1-Click feature.
"The Apple Store has been incredibly successful and now we're taking it to the next level," said Apple CEO Steve Jobs.
Industry First
Apple also announced that it is making its iMovie 2 video editing software immediately available for downloading using 1-Click. The Cupertino, California-based company said it believes that the use of 1-Click shopping for downloading software over the Internet is an industry first.
Licensing the technology could boost sales for Apple. A number of studies have shown that many buyers abandon their shopping carts in frustration because of the tediousness of the online buying process. In fact, a study by Jupiter Communications said that 27 percent of online buyers had abandoned at least one order before completion, simply because the experience is too exasperating.
Ongoing Patent Wars
Amazon has been fiercely protective of its 1-Click technology since the feature was first introduced in September 1997. One month after receiving the patent last year, Amazon filed a lawsuit against Barnesandnoble.com over alleged patent infringement.
At the time the suit was filed, Amazon CEO and founder Jeff Bezos said, "We spent thousands of hours to develop our 1-Click process, and the reason we have a patent system in this country is to encourage people to take these kind of risks and make these kind of investments for customers."
The first round of the patent wars went to Amazon when the e-tailer obtained a preliminary injunction stopping Barnesandnoble.com from using what Amazon calls a "copycat version" of 1-Click. The court has not made a final decision in the case.
Widespread Outcry
Meanwhile, Amazon has been facing criticism from users and analysts alike who think the 1-Click technology is too simple to be patented.
In an open letter posted at Amazon, Bezos said, "I've received several hundred e-mail messages on the subject of our 1-Click ordering patent. Ninety-nine percent of them were polite and helpful. To the other one percent — thanks for the passion and color!"
Bezos added, "Despite the call from many thoughtful folks for us to give up our patents unilaterally, I don't believe it would be right for us to do so. This is my belief even though the vast majority of our competitive advantage will continue to come not from patents, but from raising the bar on things like service, price, and selection — and we will continue to raise that bar. We will also continue to be careful in how we use our patents."