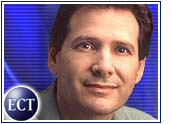 Priceline.com founder Jay Walker will step down from his position as vice chairman of the embattled e-tailer's board of directors on Sunday, the company announced Thursday.
Walker, who serves as the chief executive officer of his privately held company, Walker Digital, said he is leaving Priceline's board in order to focus on business challenges facing his firm, "including the licensing of its intellectual property portfolio and commercialization of several related services."
Walker Digital, founded by Walker in 1994, says it has received more than 70 patents and has another 400 or so pending. Walker Digital also owns the rights to the "name-your-own-price" software used by Priceline.
"I am proud of what I have achieved so far at Priceline.com," said Walker, who formulated Priceline's business model. "I have every confidence that Priceline.com will emerge from the current environment as one of the Internet's pre-eminent brands."
Troubles for Walker
Priceline chairman Richard S. Braddock thanked Walker for his "significant contributions" to the company, adding that "Jay gave us the intellectual foundation on which we have built and expect to continue to grow Priceline.com."
The statement issued by Priceline did not address whether a recently launched probe into Walker Digital's employment practices played any part in Walker's departure from the board.
At the end of November, Connecticut Attorney General Richard Blumenthal said that he was investigating allegations that Walker Digital violated state and federal employment law when it let go 100 of its 125 employees without giving proper notice.
Blumenthal also said he was looking into whether severance pay was properly offered to those who lost their jobs, and whether health insurance coverage was canceled without proper notification. If the Attorney General were to find evidence of wrongdoing, a court could require Walker Digital to provide remuneration for back pay, severance pay and civil penalties.
Walker Trips
The investigation is the latest in a string of troubles to befall companies founded by Walker. In the past several months, five firms he established — Atlantis Interactive, High Circle, Pulse 23, and Priceline affiliates WebHouse Club and Perfect Yardsale — have shut down.
Priceline itself has not been insulated from Walker's woes. In November, Priceline said it would incur an unspecified fourth quarter charge because it had doubts that Walker Digital — which undertook internal restructuring after its workforce reductions — could fulfill its obligations to pay certain legal fees.
Priceline Struggles
Moreover, Priceline has had its own recent setbacks. Over the past two months, the company scuttled plans to introduce its services to Australia and New Zealand, canceled a planned expansion project in Japan, slashed jobs and lost other high profile executives.
Priceline has also postponed the launch of its life insurance and cellular phone services in order to concentrate on growing its core businesses.
The once high-flying company, which created the name-your-price concept of e-tailing, launched its site in April 1998, offering airline tickets and reservations. The company quickly expanded its offerings to include mortgages, cars, phone service and other items before running into problems.
Rise and Fall
Priceline stock, which went public in March 1999 at US$16 a share and traded as high as $165 at one point, has taken a beating as the company's troubles have grown.
In the third quarter of 2000, Priceline said that it lost $2 million, or a penny per share, before special charges, compared with a loss of $12 million, or 8 cents, in the year-earlier quarter.
Revenue rose 124 percent from a year earlier to $341 million, but the company predicted lower revenue for the fourth quarter, which will also include a restructuring charge for a 16 percent workforce reduction.
Early Friday, Priceline shares were trading at $1.25. Walker's departure was announced after the close of trading Thursday.
Doing Better Business
Priceline's streak of misfortune was broken, at least temporarily, when the company's membership with the Connecticut Better Business Bureau (BBB) was reinstated earlier this month. The state's BBB had expelled the company in September after reportedly receiving more than 300 complaints, ranging from misrepresentation of services to failure to make promised refunds.
According to the Connecticut BBB, Priceline's improvements to its Web site and customer service operations merited a reinstatement of the organization' s seal of approval.
However, Priceline is not in the clear in other respects. Blumenthal is conducting his own investigation into other customer complaints about e-tailer that is still ongoing.