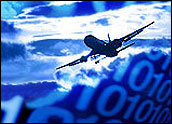 Travel site Expedia.com (Nasdaq: EXPE) said Tuesday it has struck a deal to have its Internet search technology licensed to more than 20,000 online and offline travel agents around the world.
The initiative, known as ePricing, stems from Expedia's long-standing partnership with Worldspan, an airline-backed reservation system used by travel agents. Expedia and Worldspan have been partners since 1995.
The move also creates another battlefield in the ongoing war for travel-related e-commerce dollars. One of Expedia's main online competitors, Travelocity (Nasdaq: TVLY), is already tied into thousands of travel agents through its majority owner, Sabre (NYSE: TSG).
In February, Sabre rolled out an initiative, known as the eVoya Webtop, that is similar to the one announced by Expedia.
Analysts have said that as consumers turn to the Internet for travel information and lower fares, traditional travel agencies must adapt to Web technology in order to survive.
More Choices
Bellevue, Washington-based Expedia and Worldspan said their system, which uses Expedia's server-based search technology, will provide agents with "hundreds of itinerary choices" and a broad range of price and schedule options.
Expedia said that ePricing will be based on the technology that drives the "Build Your Own Trip" feature on its Web site. Slated for launch later this year, ePricing will be aimed at private and corporate travel agencies of all sizes, as well as other online travel sites.
"Expedia has proven the fare-searching capabilities, massive scalability and robustness of its technology," said Paul Blackney, president and chief executive officer of Atlanta, Georgia-based Worldspan.
Tangled Web
The Worldspan reservation system is owned by several major airlines, including Delta and Northwest. Highlighting just how crowded and intermingled the online travel world has become, those airlines are also among the main backers of Orbitz, the mega-travel site that some analysts say poses a competitive threat to Expedia and others.
Expedia, meanwhile, is facing a blend of good and bad news on other fronts.
The company reported its first operating profits in May of this year — just weeks after Travelocity booked its first earnings. And Expedia remains on target post profits again next month.
However, Expedia is also facing a spate of lawsuits from investors who allege the company's initial public offering, which took place in 1999, violated federal securities laws.