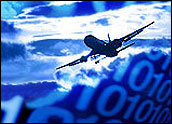 The war to win the clicks of online travel shoppers continues to sizzle,with two major airlines touting their ability Friday to use theInternet to reach customers directly.
Northwest Airlines (Nasdaq: NWAC) said it would give customers the abilityto change their own flights through its Web site or through airport-basedInternet kiosks. The service is designed to cater to harried travelersforced to alter plans at the last minute.
And crediting "an aggressive campaign of Internet fare sales" for its increased traffic, American Airlines (NYSE: AMR) announced Fridaythat daily visits to AA.com are up 165 percent over a year ago. Americansaid it is getting more than 750,000 visitors per day to its site.
"It shows our efforts are working," said John Samuel, the Fort Worth,Texas-based airline's vice president of customer technology.
Time is Money
Northwest said the last-minute exchange service is not available through most online ticket agents.
"This is another time-saving convenience that enhances the travelexperience for customers who must adjust travel plans," said Al Lenza,Northwest's vice president of distribution planning and e-commerce.
The new offerings on Northwest's Web site are a change incourse for airline sites, most of which have relied to date on deep discounts to attract Internet customers.
In fact, within the past week, several airlines, including AirTran andDelta, unveiled deep discounts on certain tickets through their sites.
Battle Engaged
All of the efforts come amid a rapidly evolving landscape for onlinetravel sales. In just a few weeks, Orbitz.com — whose backers includeNorthwest, American and Delta — has already had a major impact on theindustry, besting even its ownexpectations for sales during its first few days of operation.
In response, established travel sites have added features of their own.For instance, just days after Orbitz went live, Travelocity (Nasdaq: TVLY)announced an alliance to allow customers to make last-minute bookings.
Advantage Airlines?
However, airlines might have the upper hand over their online-only competitors.
A study released in April by Jupiter MediaMetrix found that airlines had posted a 26 percent year-over-year gain inWeb traffic, while online travel sites had actually seen a decrease.
Jupiter said the airline sites are making "significant inroads," despite thefact that many got a late start against their Net travel site rivals.
Additionally, analysts say the airlines have an incentive to embrace theWeb as a sales channel. In most cases, selling tickets online — orenabling travelers to re-book on the Internet — reduces customer servicecosts.