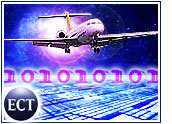 Travelocity.com (Nasdaq: TVLY) and Yahoo! (Nasdaq: YHOO) announced Wednesday that they have inked a deal to create interactive multimedia broadcast centers for Travelocity customers.
Fort Worth, Texas-based Travelocity said that the broadcast centers, set to open later this summer, will "bring together Travelocity's video, audio, photo images and text information from thousands of travel locations, creating vibrant, comprehensive travel information sites."
The broadcast centers, which will be in addition to Travelocity's regular site, will offer consumers various channels containing hotel, resort, shopping, and destination-specific information.
While some might see Travelocity's announcement as a desperate bid to compete with travel mega-site Orbitz, Morningstar.com analyst Langdon Healy, who covers Travelocity, told the E-Commerce Times, "I don't think it's desperation. I think it's prudent business planning."
Healy did note that "Travelocity is behaving in a way that suggests they recognize Orbitz is a big threat."
Said Forrester Research senior analyst Henry Harteveldt: "There is no downside for Travelocity, but I don't think this is going to be a barn burner."
Harteveldt told the E-Commerce Times that the deal "may bring more browsers" who look at Travelocity and then book their travel elsewhere, unless Travelocity is "able to integrate a solid incentive to make them purchase at their site."
Dynamic Response
Travelocity vice president Michael Altomari said that some consumers have upgraded to nicer hotels or resorts based on multimedia presentations.
"The new broadcast centers being created by Yahoo! Broadcast Services will give us the kind of dynamic interaction and video offering that consumers prefer when making travel decisions," Altomari said.
Altomari stressed that the new broadcast centers will allow consumers with slower browsers to view slides or photographs instead of video presentations.
Ready or Not?
Despite Altomari's assertion that consumers want multimedia presentations, Healy and fellow Morningstar analyst George Nichols, who covers Yahoo!, said the new product may be too media-heavy for some consumers.
"I'm not really sure how popular this will be with travelers," Nichols told the E-Commerce Times. "Webcasting hasn't taken off in the mass market yet, due to limited broadband penetration."
Gartner research director David Schehr also expressed doubts about the broadcast centers, saying that "the Internet is still a directed media, rather than a browsing media," and most consumers who log on already know what they are looking for.
According to Schehr, consumers looking for in-depth information "usually end up going to a brick-and-mortar travel agent."
Among the First
Travelocity is among the first companies to take advantage of Yahoo! Broadcast Services' Marketing Webcast Solutions. The new product, launched Monday, offers companies tailored Webcast services for both internal and external communications.
In addition to broadcast centers being developed for Travelocity, Yahoo! Broadcast Services is also offering product-launch Webcast centers.
Yahoo! said that its Webcast centers would offer "tremendous flexibility to control content and quickly post updated video and audio information."
Right Direction
In addition to providing companies with Webcast services, the new product also adds an additional revenue stream for Yahoo!.
"Ever since buying Broadcast.com, Webcasting has generated only a small percentage of [Yahoo's] overall revenue," Nichols said. "This latest deal won't provide a significant boost to the topline anytime soon. However, diversifying its revenue stream is a step in the right direction."