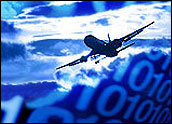 As the summer travel season gets underway and a new competitor — airline-backed Orbitz — enters the fray, online travel companies are bombarding consumers with new multimedia marketing pitches.
However, analysts told the E-Commerce Times on Tuesday that even with the new TV and print ad campaigns, it will be difficult for any one company to distinguish itself.
This week, Orbitz and Honolulu, Hawaii-based Cheap Tickets (Nasdaq: CTIX) launched separate national advertising campaigns aimed at attracting new users. Those initiatives follow ad campaigns already underway from online travel competitors Travelocity (Nasdaq: TVLY) and Expedia (Nasdaq: EXPE).
Gartner research director David Schehr told the E-Commerce Times that one fact making it tougher for travel sites to gain customer loyalty is that the consumer they are going after — the leisure traveler — only travels a couple of times a year, and might not remember one site or another when the time comes to book the next trip.
"One of the challenges Orbitz is going to face is breaking into the clutter,"Schehr said.
Schehr added that while travel sites offer different promises on customer service issues, the average leisure traveler is still more concerned about the price. Given all these factors, Schehr said, it is too soon to say whether Orbitz will be able to develop the kind of customer loyalty its backers are hoping for.
30 Seconds of Heaven
Orbitz' national TV ads, which will complement a print campaign, seek to evoke the "Golden Age of Travel" from the early jet era, according to the company. The ads focus more on mood than on substance, as Orbitz is seeking to raise consumer awareness of its site.
Orbitz is using TBWA/Chiat/Day, the agency that created the Absolut vodka bottle ads, to handle its campaign. In addition to print and TV ads, the company boasted, the campaign features poster ads "that are sure to become collectors' items themselves."
Cheap Tickets, which sells tickets through retail outlets, over the Internet and by phone, said Monday it is launching the "most comprehensive" ad campaign in its 15-year history as part of an "overhauled strategic marketing program."
The Cheap Tickets campaign, produced by ad agency J. Walter Thompson, is designed to "raise awareness of the brand in new and existing markets." The company said the "Pass It On" ad campaign implies that Cheap Tickets' longtime customers already know that the company has better deals than its newer competitors.
The Big Unknown
However, the fact that Travelocity and Expedia have four years of experience with advertising in the online travel sector raises the stakes for Orbitz, Jupiter Media Metrix analyst Heidi Kim told the E-Commerce Times.
"Granted, Orbitz has made a splash on the business side, but they are stillunknown as far as the consumer," Kim said.
The companies are competing in a sector that has been one of the strongest in e-commerce this year. Travelocity and Expedia showed profits in their most recent quarterly reports, and Priceline has predicted a profit for Q2 2001. Cheap Tickets says it has been profitable for the past nine quarters.
Shakeout Predicted
For its part, Orbitz, backed by American, Continental, Delta, Northwest and United, said it sold US$3.5 million in tickets before its site's official opening June 4th.
However, the strong interest Orbitz generated has had both positive and negative effects on the company. Orbitz rushed to double its customer-service staff shortly after it opened its virtual doors. Orbitz said some customers were "impacted" as its Web site and phone banks were swamped with service requests.
Schehr said the online travel industry, like other e-commerce sectors, islikely to see consolidation as time goes by. Newer companies, hesaid, are not likely to survive the shakeout, and Orbitz' fate "is very muchan open question right now."