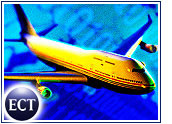 Many U.S. airlines are now offering consumers discounts for making travel reservations over the Internet.
On Tuesday, Orlando, Florida-based AirTran, the low-cost airline formerly known as ValuJet, said it would give 5 percent off to travelers who book their trips through the company's Web site, AirTran.com.
Delta Air Lines (NYSE: DAL), American Airlines (NYSE: AMR), United Airlines (NYSE: UAL) and America West Airlines (NYSE: AWA) all announced similar programs onMonday, with discounts ranging from 5 to 20 percent. Delta is also offering bonus frequent-flier miles to customers who buy their tickets via the Delta.com Web site.
Airlines have good reason to want travelers to book online, said RobLancaster, Internet market strategist at the Yankee Group.
"It's a logical move," Lancaster told the E-Commerce Times. "We're seeing this in a number of industries, because it really cuts human costs."
Savings for All
With the fare cuts, airlines are attempting not only to sell more tickets this summer and fall, but also trim expenses by dealing directly with consumers.
In addition to saving the airlines money by reducing the need to haveheavily staffed call centers, the process of having customers make their own reservations cuts down on the margin of error by eliminating the "human factor,"Lancaster said.
According to Lancaster, the computer will not let the traveler move to thenext screen if anything on the first page is incorrect, so there is less opportunity for error.
Marketing Mayhem
The new programs are also the latest step in an online travel marketing battle that has broken out among Internet travel companies Expedia (Nasdaq: EXPE), Travelocity (Nasdaq: TVLY)and Orbitz, a venture formed by a group of major airlines.
Airlines have been hit by a slowdown in travel due to the weak economy and rising energycosts. The companies have historically tended to match each other's price cuts, but the Internet discounts are a new factor in this season's fare wars.
E-Commerce Perks
The tactic of promoting Web-based sales is also being used in the Internet access market, with digitalsubscriber line (DSL) providers beginning to offer incentives like freeinstallation to customers who sign up online, Lancaster said.
As for the travel sector, the airlines' moves could cut into business at the non-airline travel sites, although not by much, according to Lancaster.
"There's going to be increased competition as consumers begin to save some money by booking directly by the airlines, but I don't know that it's going to have a majoreffect," the analyst said.
Cheap Tickets
Separately Monday, discount travel company Cheap Tickets (Nasdaq: CTIX) lowered its projection for results for the secondquarter ending in June, due in part to technical problems with its Web site.
Cheap Tickets, which predicted net income of 4 to 5 cents per share for thequarter, below earlier projections of 21 to 22 cents, said technologicalglitches caused "booking-engine errors" and prevented consumers from seeingsome discounted fares. In addition, the launch of the new Web site was delayed, the company said.
President and chief executive Sam Galeotos said the company's new marketingcampaign has "been successful in generating consumer interest" andshould help boost results in future quarters.