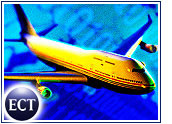 Echoing the success U.S. online travel companies have enjoyed, data releasedThursday by Jupiter MMXI said that European travel Web sites are also seeing a surging demand for their services.
According to the research firm, the number of consumers visiting travelsites in Europe spiked by almost 4 million between November and April.
In Europe's three largest markets — the UK, France and Germany — uniqueusers increased by almost 1 million each, to hit a total of over 10 millionvisitors during the six-month period. Moreover, the report said thattravel sites in these three countries had betweena 27 percent and 30 percent audience reach.
"With providers of all models of transport now active online, it is nosurprise that European consumers are now using the Internet for informationabout timetables and destinations," said Jupiter MMXI analyst Nick Jones."It is also clear that consumers are comfortable purchasing lower price travel products, such as airline tickets."
Surf's Up
Jupiter also said that a clear seasonal trend has emerged in travel surfingbehavior, with consumers spending more time on travel sites during peak holiday times than on retail and news sites.
Web sites offering both information and tickets, especially for air and railtravel, are particularly popular across Europe. In the UK, online travel sites Easyjet.com, BritishAirways.com and Railtrack.co.uk all rank within the top 10 Internet travel destinations.
To build greater market share, some European Internet travel agencieshave taken steps to merge their operations with competitors. For example, Lastminute.com acquired France's largeste-travel group, Degriftour, last August in a deal valued at US$89 million. The takeover made Lastminute.com the second-largest online travel agency in Europe.
Among all European travel sites chartedin Jupiter's report, Lastminute.com was the only site to appear in the top 10 inthe UK, France, Germany, Sweden, Italy and Spain.
Aiming Higher
Although European online travel firms have already begun building a customerbase, Jupiter said that they must now persuade users to make more expensive purchases.
"To maximize this opportunity, package operators must escape the brochurementality that has left consumers sifting through poor quality informationon their Web sites," Jupiter MMXI said.
For instance, the report said it is "crucial" for travel sites to enablecustomers to easily gather, compare and share information about packagetravel components.
Flight Forecasts
Jupiter's findings dovetail with other recent studies that haveforecast strong growth in the European travel sector.
A report released earlier this year by Internet travel measurement firm PhoCusWright predicted that the continent's online travelmarket will mushroom nearly 300 percent, from the $2.9 billion racked up insales last year to $10.9 billion in 2002.
According to PhoCusWright, a number of key factorshave gotten the industry ready for precipitous growth, including: increasedWeb and wireless device usage rates, beefed-up online bill payment options, and enhanced securityand privacy measures.
In addition, the measurement firm pointed to the wider adoption of flat-rate Net access payment plans as a factor likely to boost online travel services.