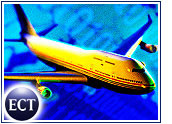 A projected shift in online user demographics in the coming years willlikely fuel an even greater boom for the online travel sector, according todata released Thursday by IDC.
One of the sector's key drivers will be an explosion in the population with the "time and funds to travel," the firm said.
Specifically, IDC concluded that aging baby boomers are poised to become a significant purchasing force, withtheir numbers set to nearly double from 31 million in 1999 to 61.5 million in 2004.
The report also said online travel firms should keep an eye on seniors overthe age of 55, who will comprise the fastest-growing age group in the coming years.
Moveover, IDC forecasted a number of other factors will help spur the growthof online travel, including the expected surge in the number of Internet users in the U.S. from 100 million last year to 194 million by 2005.
The research firm also pointed to an expected spike in thepercentage of consumers who conduct online transactions, from 50 percent in 2000 to 61 percent in 2005, and to a nearly two-fold increase in the amountusers spend online, from US$1,100 per person to $2,100.
Corporate Influence
As one of the "substantial early engines of e-commerce revenue," online ticket sales represented 6 percent of all U.S. e-tail revenue and 19.6percent of business-to-consumer (B2C) revenue in 2000, said IDC.
Although home users initially will propel much of the growth in Internet ticket sales, the study predicted that the corporate market will be lured toonline purchases by the prospect of saving on travel expenses within thenext two years.
A separate report released last month by Jupiter Research alsopredicted that corporate travel bookings are geared to impact the online travel market. Jupiter projected that in the coming years, nearly a third of the onlinecorporate travel sector, or $33 billion of a $106 billion market in 2005,will be made via customized online travel systems.
Billions and Billions
Adding to the mounting evidence that online travel continues to be one ofthe strongest e-commerce performers, IDC also forecast that airlinetickets purchased via the Web will hit $32.7 billion by 2005, accounting fornearly one-third of all airline ticket sales.
In contrast, online ticket sales totaled $8.7 billion in 2000, 10 percent of all airline ticket sales.
These projections should spell good news for sector leaders Priceline.com (Nasdaq: PCLN),Expedia.com (Nasdaq: EXPE) and Travelocity.com (Nasdaq: TVLY), all of which have posted encouraging earnings results in recent weeks.
E-Travel Leaders
The airlines generating the most revenue from online ticket sales areSouthwest and Delta, each accounting for 19 percent of U.S. online ticketsales, said IDC.
However, the report said both air carriers have taken very differentapproaches to capturing market share. While Southwest sold almost all of itstickets directly, Delta's direct sales were less than half of its totalsales. Instead, Delta has struck partnerships with Priceline and otheragencies to boost sales.
IDC also added a dose of caution to the "relatively rosy" picture of onlineticket sales, noting that booking tools need to be simplified and quicker inorder for the sector to reach its full potential.