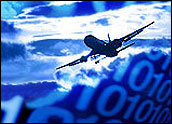 Nine major European air carriers unveiled plans Tuesday to launch a new online travel service that will sell flights and related travel products to consumers.
The joint venture, which has been named Opodo, is backed by the consortium of Aer Lingus, Air France, Alitalia, Austrian Airlines, British Airways, Finnair, Iberia, KLM and Lufthansa.
According to Opodo, its offerings will include "competitively priced" flights from over 480 airlines, as well as hotel bookings, car rentals and insurance for domestic and international travel.
Opodo said it is targeting both leisure and unmanaged business travelers who primarily use the Web for research, as well as seasoned online travel bookers.
The company said its name is derived from the phrase, "opportunity to do."
Battling U.S. Sites
"Europe has for some time lagged behind the U.S. for online travel bookings, and we believe that Europe is about to witness an explosion in demand for online travel services surpassing U.S. growth by as early as 2004," said Opodo chief executive officer Giovanni Bisignani, who was formerly the chief executive officer of Alitalia.
"Opodo aims to be a low-cost distribution channel with the objective ofproviding consumers with choice and low fares," Bisignani said.
Like its American counterpart Orbitz — the mega-travel site formed by a group of major U.S. airlines — Opodo is likely to be a formidable competitor for online travel sites and traditional travel agents alike.
Service Strategy
The European Web-based travel market has grown increasingly crowded in recent months. However, Opodo said it aims to differentiate itself from competitors by implementing a strong customer service strategy, which industry analysts believe is key to success inthe sector.
To that end, Opodo said it will have local independent sites tailored for each European market. In addition to its e-commerce options, Opodo plans to offer information resources, such as destination guides and interactive maps.
Opodo has established its headquarters in London and will operate independently from its airline shareholders. It initially plans to launch sites in Europe's three largest markets — Germany, the United Kingdom and France — with openings slated for other countries in 2002 and 2003.
Flight Forecasts
Opodo's entry into the online travel market comes at a critical time. Several recent studies forecast strong growth for the sector in Europe.
According to data released earlier this month by Jupiter Media Metrix, the number of consumers visiting travel sites in Europe spiked by almost 4 million between November and April.
Moreover, the research firm found that in the UK, France and Germany, the number of unique users increased by almost 1 million each, to hit a total of over 10 million visitors during the six-month period. The report said that travel sites in these three countries had between a 27 percent and 30 percent audience reach.
Meanwhile, a report released earlier this year by Net travel measurement firm PhoCusWright predicted that the continent's online travel market will mushroom nearly 300 percent, from the US$2.9 billion racked up in sales last year to $10.9 billion in 2002.